Makes 6 Pancakes
½ cup Ensure vanilla powder
¾ cup plain flour
½ cup vegetable stock
6 eggs
3 cups cabbage, shredded
2 green onions, finely chopped
3 tbsp. extra virgin olive oil
½ tsp salt
1 carrot, grated
Stir flour, with salt and Ensure powder in a large mixing bowl.
In another bowl, whisk stock and eggs. Add wet ingredients to flour mixture and gently fold in cabbage, carrot and spring onions.
In large non-stick pan, heat 1 tbsp. of oil over medium-high heat. Pour ½ cup of the batter into the pan and gently flatten with a spatula. Cook for 3-4 minutes or until bottom is browned, flip over and cook for 2-3 minutes or until cooked through.
Repeat with remaining batter, adding more oil as needed.
Top with Japanese mayonnaise, hoisin sauce, bean sprouts and sesame seeds.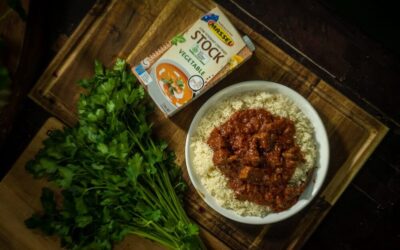 Ingredients: 1 1⁄2 kg round steak, cleaned and cut into cubes 3 cans of roma tomatoes, crushed by hand 1 onion, finely diced 2-3 cloves of garlic 1⁄2 cup of olive oil, plus an additional 2 tbsp 1tbsp red wine vinegar 1L water or chicken stock (optional) 1tbsp tomato...