Serves 4
4 thick slices day-old Italian bread (Ciabatta or Pane di Casa)
6 tbsp. Extra Virgin Olive Oil
4 ripe truss tomatoes
1 Lebanese cucumber
½ small red onion, thinly sliced
1 tbsp. baby capers, drained and rinsed
1 large ball fresh buffalo mozzarella (150-200g)
2 tbsp. red wine vinegar
1 ½ tsp. Dijon mustard
1 clove garlic, finely grated
½ cup picked basil leaves, roughly torn
½ cup picked Italian parsley, roughly chopped
Salt and Pepper
Preheat the oven to 200C. Cut bread into 1-inch cubes and place into a small bowl. Drizzle over 2 tbsp. olive oil and season with a pinch of salt. Toss to combine and transfer to a baking tray. Place in the oven and bake until golden brown, approximately 7-10 minutes. Remove and set aside to cool.
Cut tomatoes and cucumber into 1-inch pieces and place in a large bowl along with the onion and capers. Tear the mozzarella into bites-sized pieces and add to other ingredients, toss to combine.
In a separate bowl, add the vinegar, mustard, garlic and a pinch of salt and freshly cracked black pepper and whisk to combine. Gradually drizzle in the remaining olive oil, whisking continuously until emulsified. Taste and adjust seasoning if required. Add in the herbs and stir to coat.
Add the bread to the salad bowl and pour over the dressing. Gently toss to coat all ingredients. Allow to sit for at least 20 minutes to allow dressing to soak through the bread and infuse the flavours. Gently re-toss the salad just before serving, drizzle with a little extra olive oil and a sprinkle with a little salt and cracked black pepper.
Our friends at Wine Selectors suggest pairing this dish with a Pinot Grigio.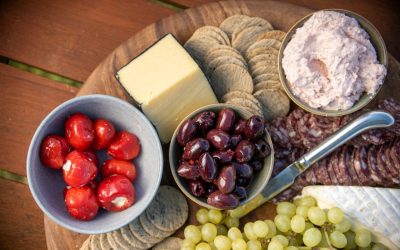 Ingredients: Hard Cheese Soft Cheese Blue Cheese 1 baguette  A bunch of Green Grapes Honeycomb Salami (sliced) Smoked Salmon Dip Artisan Crackers Beetroot dip Poppy Seed Skordalia Dip Dukkah Stuffed Bell Peppers Marinated Olives (pitted) Method: There are no rules or...