Passionfruit and Lime Soda
Tobie Puttock
Serves 2
2 passionfruit
1 lime, halved
1 tablespoon coconut sugar
Approx 500ml sparkling water
Ice
Distribute the brown sugar and lime juice between your serving glasses along with the pulp of a passionfruit per glass.
Fill the glass with ice and top up with sparkling water.
Stir and serve.
Brought to you by SodaStream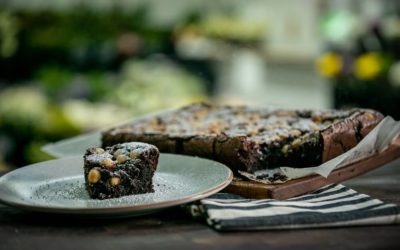 Ingredients: Makes 28 portions 12 eggs 800gm 900gm caster sugar 675gm 68% Madagascar chocolate 675gm-unsalted butter 225gm ground macadamia meal 225gm cocoa powder 300gm macadamia nuts Method: Preheat oven to 150 degrees Grease and line sponge tray with parchment...