Passionfruit and Lime Soda
Tobie Puttock
Serves 2
2 passionfruit
1 lime, halved
1 tablespoon coconut sugar
Approx 500ml sparkling water
Ice
Distribute the brown sugar and lime juice between your serving glasses along with the pulp of a passionfruit per glass.
Fill the glass with ice and top up with sparkling water.
Stir and serve.
Brought to you by SodaStream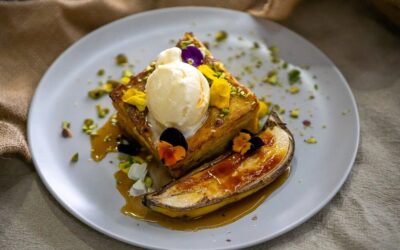 Ingredients: Serves: 4 ¼ cup Nutella 8 thick slices of brioche 3 eggs ¼ cup milk 1 vanilla bean, scraped 40g butter 2 lady finger bananas 2 Tablespoons caster sugar 160g unsalted butter ¼ cup pistachios, chopped ¼ cup maple syrup Edible flowers to garnish Ice cream to...