Passionfruit and Lime Soda
Tobie Puttock
Serves 2
2 passionfruit
1 lime, halved
1 tablespoon coconut sugar
Approx 500ml sparkling water
Ice
Distribute the brown sugar and lime juice between your serving glasses along with the pulp of a passionfruit per glass.
Fill the glass with ice and top up with sparkling water.
Stir and serve.
Brought to you by SodaStream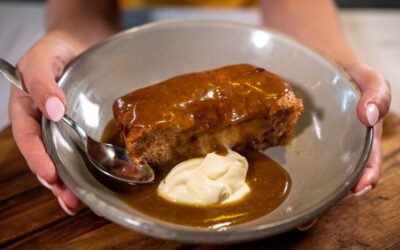 Ingredients: 185 g dates 1 cup water 60g butter 2 eggs 185g self raising flour 185g sugar 1tsp baking powder ½ tsp vanilla paste Butterscotch Sauce: 1 cup cream ¾ cup brown sugar 2 tbsp butter Pinch of salt Method: Bring the dates and water to a boil, then remove from...