Pickling Vegetables
Elena Duggan
Pickling Liquid Base Ingredients
1L Water
1L White Vinegar / Apple Cider Vinegar
50g Salt, Murray River
50g Stevia Monkfruit – more if desired / honey
Cucumbers
500g Cucumbers, similar length/ height of jar, quartered lengthwise
¼ bunch dill
10-25g Yellow mustard seeds
Carrots
500g Heirloom carrots, similar length/ height of jar, quartered lengthwise
10-25g Fennel Seeds
10-25g Coriander seeds
Baby Onions
500g Baby onions
10-25g Black Peppercorns
3 cloves garlic, finely sliced
(Japanese) Pickled Ginger
500g Water
500g Rice vinegar
50g Salt, Murray River
50g Stevia Monkfruit – more if desired
500g Ginger, peeled and finely sliced
2 slices fresh beetroot, peeled, approx. 5mm discs
Ensure all vegetables are thoroughly cleaned before beginning.
Bring liquid ingredients to boil in a saucepan.
Whilst waiting for the liquid to come to the boil, place vegetables in jar as tightly and aesthetically pleasing as possible, placing herbs and spices in and around.
Once liquid has come to the boil, gently and carefully pour into jars, use a funnel if safer.
Leave approx. 1cm space from the top before tightening lid.
Allow thorough cooling before refrigeration.
Pickles will be delicious after 12hrs, but will continue to get better, will last up to 4weeks in fridge.
Notes
Utilise your favourite herbs and spices paired with your favourite vegetables
Many sweeteners can be substituted for stevia/ monk fruit but all have different effects on the appearance of the liquid, level of sweetness and effect on your body. Honey is a great flavour but tends to make the liquid cloudy. Sugar has the most consistent results but destabilises blood sugars. Stevia seems to provide a happy medium – stable blood sugars, good colour, enjoyable sweetness.
Waste Tips
This is a good method for utilising plentiful, abundant and seasonal vegetables which are usually available at a cheaper price – bonus!
Health and Lifestyle Notes:
Grain Free
Gluten Free
Refined Sugar Free
Sugar Free – Low Fructose
Dairy Free
Paleo Friendly
Ketogenic Friendly
BulletProof Friendly
Vegetarian
Vegan
Pescatarian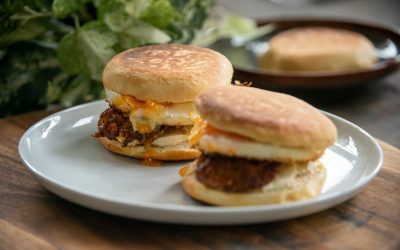 Ingredients: 300ml milk, plus extra 7g sachet of dried yeast 25g white caster sugar 50g shortening or lard 425g plain flour, plus extra 20g polenta, optional Unsalted butter Method: Gently warm the milk in a pan until lukewarm or body temperature, 37ºC. Add the yeast...