Pineapple Fried Rice
Elena Duggan
1 large Pineapple
500g Leftover steamed/ boiled brown rice
50g Coconut oil
1 large onion, finely diced
½ bunch Spring onions, finely sliced
1 medium Red capsicum, finely diced
2 large Eggs
2 cloves Garlic, crushed
½ bunch Coriander, leaves only (reserve stalks and roots for a green curry paste)
1 long Red chili, finely sliced, for presentation
1 Lime, cheeks only for presentation
25g Fried shallots
Valcom Red Curry Paste OR
10g Turmeric or 10g curry powder
20g ABC Extra Hot Chilli Sauce
20g Obento Japanese Soy Sauce
20g Squid Brand Fish sauce
Protein Options (a combination is also fine)
250g Chicken thighs, diced, or;
250g Ham, diced, or;
250g Prawn flesh, diced
Optional
Replace meat protein with extra eggs for vegetarian option, or tofu for vegan option in which case replace fish sauce with salt to taste.
Preheat your fan forced oven to 130° Celsius.
Cut pineapple in half along the length. Scoop out stringy core first and discard. Carefully scoop out almost all of the flesh, leaving shell intact with approximately 1-2 cm widths around all edges.
Place open side up on an oven tray and gently warm through whilst cooking the fried rice – maximum 25 minutes.
Whilst pineapple is in oven, dice remaining pineapple flesh into roughly 1.5cm cubes and set aside.
Heat ½ coconut oil in wok to high.
Stir-fry meat of choice and set aside.
Stir-fry onions, capsicum, garlic, turmeric, sambal until fragrant and slightly softened, then set aside.
Add remaining coconut oil in wok and allow returning to high heat before adding the rice. Stir while frying to ensure at least half the rice has a toasted texture and flavour.
Add meat, pineapple and vegetable mix and stir through to combine.
Add eggs, break up yolk and stir through.
Add sauces and cook for another 1-2 minutes.
Fill the pineapple shells with fried rice, and serve with your choice of topping, chili's, coriander, crispy shallots and/or fresh lime.
Notes
You can add all proteins if you wish or more eggs to increase good fats and protein.
Feel free to make this dish your own, by adding additional diced vegies to increase nutrient density.
Gluten free
Grain free
Low Fructose / Minimal sugar
Keto Friendly
Dairy free
Vegetarian option
Vegan option
Pescatarian option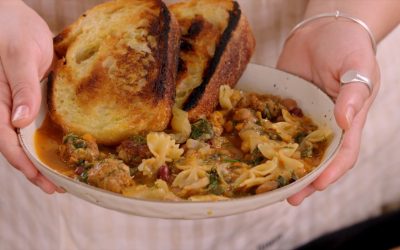 Ingredients: 4 Spicy Italian Sausages Packet of Farfalle Pasta 1 Leek 1 Carrot 1 Onion 2 Garlic 2 cups Shredded Cabbage 1 Chopped Silver Beet 1 400gm Tinned Beans 1 tsp Cumin powder 1 tsp Coriander  powder 1tsp Paprika powder 2 tbsp Tomato Paste Stock of your choice...