Pippi's, Pancetta, Garlic and Crusty Bread
Tobie Puttock
Recipe brought to you with the help of our friends at Wine Selectors
Serves: 4
8 slices pancetta, cut into batons
1kg fresh clams or vongole, washed
50 ml extra virgin olive oil
4 cloves of garlic, peeled and finely minced
1-2 small red chili's, finely minced
50ml chardonnay or other white wine.
Small bunch of parsley, washed and roughly chopped.
Crusty bread for serving
Cracked pepper
Place a large pot over a low/ medium heat. Add the pancetta and cook stirring from time to time until the pancetta is crispy and much of the fat has rendered out. Use a slotted spoon to remove the pancetta and place on a plate lined with kitchen paper.
If the pan is dry add the oil, if there is an abundance of pancetta fat, even better. Add the garlic and the chilli and cook over a medium heat As the garlic starts to sizzle add the clams, increase the heat to high and stir with a wooden spoon to distribute the garlic and chilli, pop the lid on the pot.
After a minute or so lift the lid and check in the pot, the clams should be starting to open. Once they have all opened stir through the parsley, season with cracked pepper and serve immediately with the crispy pancetta spoon over the clams and of course some crusty bread.
Our friends at Wine Selectors suggest pairing this dish with a Fiano.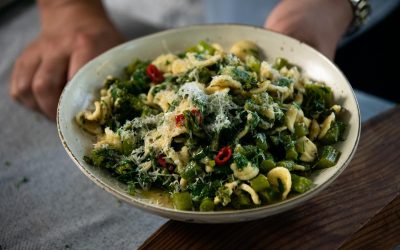 This recipe is brought to you with the help of our friends at Perfection Fresh  Ingredients: 500g orecchiette pasta Table salt for pasta water 2 heads broccolini, cut into small pieces, use stalk as well 4 birds eye chilli, sliced finely 5 cloves garlic, chopped 4...