Potato and Chorizo Brekkie Hash
Elena Duggan
500g Potato, pre-cooked, diced into 1.5cm cubes
250g Chorizo, diced into 1cm cubes
100g Red onion, 5mm dice
50g EVOO
4 lge Eggs, organic, free range
½ bunch Flat leaf parsley, finely diced
Preheat fan-forced oven to 200° Celsius.
Preheat ovenproof non-stick fry pan or skillet over medium high heat.
Fry chorizo whilst stirring until evenly golden on all sides, add potatoes, onion and EVOO and continue to cook for an additional 5 minutes or until potatoes are starting to crisp and golden.
Potatoes should have absorbed almost all the fat before you crack eggs into the pan.
Place pan in oven for 5 minutes or until whites are just set but yolks are still runny.
Dress with parsley and serve.
Grain Free
Gluten Free
Refined Sugar Free
Nut free
Dairy Free
Paleo Friendly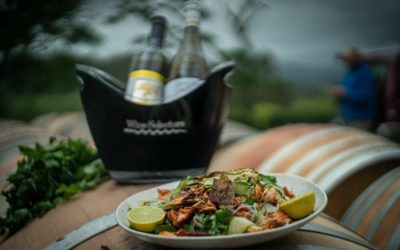 Ingredients: 100g glass noodles (bean thread vermicelli) 2 Lebanese cucumbers, thinly sliced using a vegetable peeler 4 spring onions, thinly sliced on diagonal 2 eschalots, thinly sliced 1 cup coriander sprigs 1 cup flat-leaf parsley sprigs 1-2 small red chillies,...