Potato and Rosemary Waffles
Mike Reid
Serves 2 or 4
50g Butter – Unsalted
150ml Buttermilk
50ml Double Cream
3 Free Range Eggs, plus 2 for topping (fried)
125g Plain Flour
100ml Whole Milk
Parmesan 50g grated
240g Dutch cream potatoes, grated
Few sprigs Rosemary
Salt to taste
Bring to the boil the milk, cream, salt & butter.
Add flour and stir through for 1 minute
Turn the heat off and add the eggs, buttermilk and cream
Add to a food processor and blend on medium speed until a smooth consistency is created.
Peel the potato and fine grate.
Grate the parmesan.
Hand pick the rosemary and fine chop.
Evenly combine all products.
Oil the waffle machine, pour the mix onto the machine and cook on both sides until golden brown.
Our friends at Wine Selectors suggest pairing this dish with a Semillon Sauvignon Blanc.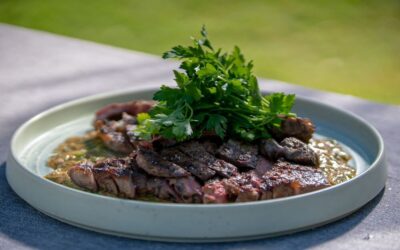 Ingredients: Serves: 2-4 2 x 250g T-bone or Rump steak Sea salt 2 Tbsp Olive oil 2 Tbsp Butter 1 brown onion, diced 2-3 cloves garlic, finely chopped 1 tsp dried chilli flakes 2 tsp dried mixed herbs 40 'twists' cracked black pepper 2 chicken stock cubes, crumbled 2-3...