Prawn and Vegetable Fritto Misto
Tobie Puttock
For the batter
2 1/4 cups rice flour
2 teaspoons baking powder
Sea salt
2.5 cups sparkling water
For the Fritto
8 prawns, deveined leaving the head and tail intact
200g white fish, cut into bite sized pieces
1 bunch broccolini, cut into 8cm lengths
1/2 fennel bulb, finely sliced
2 lemons, 1 very finely sliced, 1 quartered
Handful of freshly picked flat leaf parsley.
Oil for frying
Heat the oil in a large pot to 175C.
While the oil is heating, whisk together the rice flour, baking powder, a good pinch of salt and the sparkling water in a large mixing bowl until smooth. The batter should ribbon like a pancake batter.
Lightly batter the seafood and vegetables and carefully lower into the hot oil and fry for 2-4 minutes. It's best to do this in batches draining the cooked fish/vegetables on kitchen paper once done.
Serve with a pinch of sea salt and a wedge of lemon.
For chef quality results, we recommend using Anolon cookware!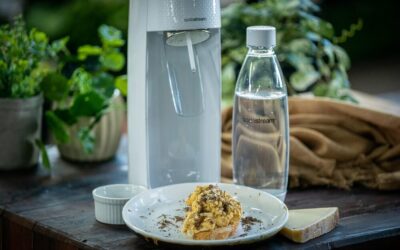 Ingredients: Serves 4 12 eggs, best quality you can afford 150ml sparkling water 2 tablespoons freshly grated parmesan Sea salt and freshly cracked pepper 20g butter 4 thick slices of sourdough, toasted/charred Method: Mix together the eggs, sparkling water, parmesan...