Prawn Saganaki
Khanh Ong and Elena Duggan
1 tbsp EVOO
1 small brown onion finely chopped
2 cloves of garlic crushed
400g prawns deveined, peeled with tails
1 tbsp fresh oregano chopped
1 tbsp fresh parsley chopped
150g cherry tomatoes halved
60g feta
To Serve:
1 tbsp chopped parsley crusty bread
large saucepan add oil and onion cooking for 3-5 minutes until softened.
add garlic and cook for 1 minute stirring
add prawns, oregano and parsley for 4-5 minutes until prawns are cooked through,
add tomatoes and cook for 1 minute.
crumble feta over the prawns and pop into an oven with the grill function on for 3 minutes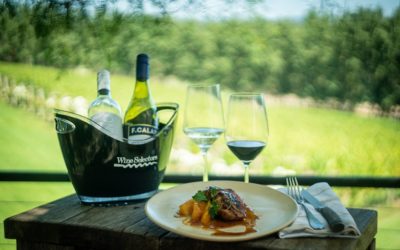 Ingredients: 4 duck breast 1 tablspoon brown sugar ½ tablespoon salt ¼ bunch thyme 1 tsp five spice butter garlic Sauce 1/3 cup sugar 1/3 cup fresh orange juice (from 1 to 2 oranges) segments of one orange 2 tablespoons white-wine vinegar 1/8 teaspoon salt 2 to 4...