Ranch Dressing
Elena Duggan
150g Jalna Greek Yoghourt
100g Mayonnaise (vegan optional)
2.5g / ½ tsp Cayenne pepper
5g / 1 tsp Garlic powder
5g / 1 tsp Onion powder
5g / 1 tsp Dill, finely diced
10g / 1 tbsp Dried chives, finely chopped
25g-50g Lemon juice, fresh
Murray River salt, to taste
Black pepper, coarsely ground, to taste
Blitz in a high-speed blender until just combined, or with a whisk in a bowl.
Notes
Serve on meats, salads or vegetables or as a dip.
Optional
Replace dairy buttermilk with coconut buttermilk for a vegan or dairy free alternative
Gluten free
Egg free
Low fructose/ sugar free
Vegetarian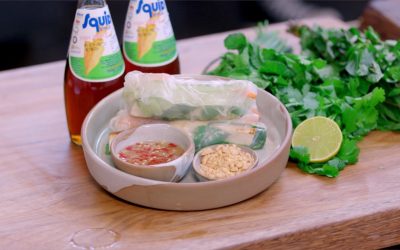 This recipe is brought to you by our friends at Asian InspirationsIngredients:Serves: 8 Prep Time: 10 mins Cook Time: 15 mins Main Ingredients: 1 packet rice paper 150g rice vermicelli noodles 1 bunch coriander 1 bunch Thai basil 1 bunch mint 1 bunch garlic chives 1⁄4...