Ranch Dressing
Elena Duggan
150g Jalna Greek Yoghourt
100g Mayonnaise (vegan optional)
2.5g / ½ tsp Cayenne pepper
5g / 1 tsp Garlic powder
5g / 1 tsp Onion powder
5g / 1 tsp Dill, finely diced
10g / 1 tbsp Dried chives, finely chopped
25g-50g Lemon juice, fresh
Murray River salt, to taste
Black pepper, coarsely ground, to taste
Blitz in a high-speed blender until just combined, or with a whisk in a bowl.
Notes
Serve on meats, salads or vegetables or as a dip.
Optional
Replace dairy buttermilk with coconut buttermilk for a vegan or dairy free alternative
Gluten free
Egg free
Low fructose/ sugar free
Vegetarian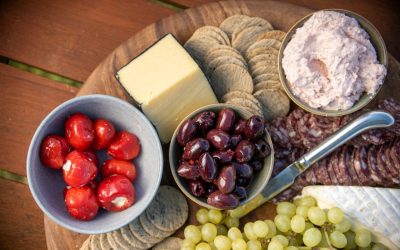 Ingredients: Hard Cheese Soft Cheese Blue Cheese 1 baguette  A bunch of Green Grapes Honeycomb Salami (sliced) Smoked Salmon Dip Artisan Crackers Beetroot dip Poppy Seed Skordalia Dip Dukkah Stuffed Bell Peppers Marinated Olives (pitted) Method: There are no rules or...