Red Curry Grilled Chicken
Chef Mod
Serves 2-3
2 tbsp Valcom Red Curry Paste
3 tbsp TCC Premium Coconut Milk
1 tbsp sugar
1 tsp Squid Brand Fish Sauce
400g chicken breast
1 cup salad leaves
For dipping sauce:
2 tbsp tamarind paste
1 1⁄2 tbsp Squid Brand Fish Sauce
1 1⁄2 tbsp sugar
2 tbsp water
1⁄2 tbsp dried chilli flakes
Combine TCC Premium Coconut Milk, Valcom Red Curry Paste, sugar and Squid Brand Fish Sauce in a large ceramic bowl. Add chicken breast, turning to coat each side and leave to marinate for 1 hour.
Heat a barbecue hotplate or chargrill pan on medium-high heat. Grill chicken breast for 3-4 mins each side or until cooked.
Slice chicken breast and place on a serving plate lined with salad leaves.
Mix all ingredients for dipping sauce until sugar dissolves. Serve sauce on the side.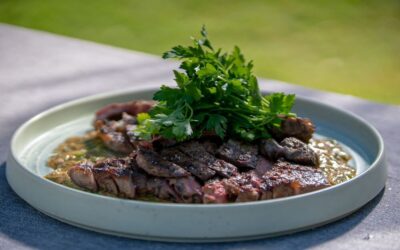 Ingredients: Serves: 2-4 2 x 250g T-bone or Rump steak Sea salt 2 Tbsp Olive oil 2 Tbsp Butter 1 brown onion, diced 2-3 cloves garlic, finely chopped 1 tsp dried chilli flakes 2 tsp dried mixed herbs 40 'twists' cracked black pepper 2 chicken stock cubes, crumbled 2-3...