2 x 1-1.5kg Rainbow Trout, scaled, cleaned
3 Lemons, 2 sliced, 1 for presentation
100g EVOO, plus extra for presentation
1kg Potatoes (good for mashing, not too waxy), peeled, quartered
500g Green peas, frozen plus additional 100g for presentation
250g Broccoli, florets only
150g Crème Fraiche
50g Butter
White pepper, to taste
Murray River salt, to taste
½ bunch Dill, leaves only, chopped, reserve half
½ bunch Parsley, leave only, finely chopped
Optional
To decrease carbohydrates, replace regular potato with sweet potato and increase greens ratio.
Preheat your fan forced oven to 180° Celsius.
Place potatoes in a steamer over at least 2litres of water, bring to the boil and steam until cooked all the way through. Remove from heat and discard water, place potatoes into now empty pot.
Whilst the potatoes are steaming, stuff the fish with lemon slices, drizzle with oil and season with pepper and salt. Wrap in foil and place in baking dish. Roast for 20-30 minutes or until just cooked through.
Whilst the potatoes are steaming and the fish is roasting, bring a medium saucepan of water to the boil. Blanche the peas and broccoli separately until vibrant green and just softened, strain well. Set aside approx. 100g of the peas.
In the cooked potato pot, place all remaining peas and broccoli, plus crème fraiche, herbs and butter. Mash to a rough consistency but so some colours of each are still visible. Season to taste.
For the remaining peas, squeeze half remaining lemon over the top, set aside other half in wedges for presentation. Drizzle a small amount of oil over peas, season to taste, and toss through remaining dill.
Very carefully peel back the skin of the trout and gently lift the flesh away from the bones, serve one fillet per person, is okay if it's not a perfect fillet but try to keep it in decent size pieces.
Place mash, then peas and then fish onto each plate, serve with lemon.
Notes
If you'd prefer to fillet your fish first, you may, but this method makes pin-boning those tiny bones irrelevant.
Salmon fillets can be substituted for trout if you're more comfortable cooking those or they're more readily available.
Gluten free
Grain free
Low Fructose / Minimal sugar
Keto Friendly, optional
Pescatarian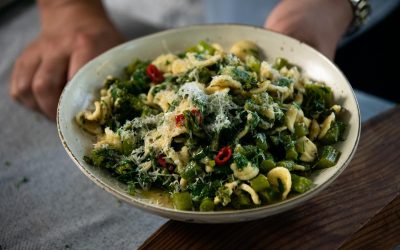 This recipe is brought to you with the help of our friends at Perfection Fresh  Ingredients: 500g orecchiette pasta Table salt for pasta water 2 heads broccolini, cut into small pieces, use stalk as well 4 birds eye chilli, sliced finely 5 cloves garlic, chopped 4...