Roasted Lamb Rack
Elena Duggan
50g Australian extra virgin olive oil, extra for drizzling
25g Anchovies and oil
75g Capers, drained and patted dry
500g Brussels sprouts, washed and shredded
150g Baby green peas, fresh if possible
1bunch Mint leaves, shredded
1kg Chat Potatoes
500g approx. Lamb rack, grass fed, organic
2 x Lemons, zest for lamb, reserve juice for sprouts
Murray River (pink) Salt
Preheat oven to 220°C.
Pre-boil potatoes with skin on, until cooked through and starting to collapse. Drain well and allow most steam to escape. Put into a baking dish and gently squash each potato with a fork, drizzle a generous amount of olive oil to evenly cover the potatoes and a good sprinkle of salt. Roast at 220-250° Celsius for about 20 minutes before rotating and roasting for another 20 minutes until golden and crisp.
Season lamb with salt, lemon zest and olive oil. Heat a frying pan over medium-high heat and brown the lamb well, meaty side down, for 3 minutes. Turn and brown the other sides and ends for a further 2 minutes. Transfer racks to a roasting pan. Roast for 15 minutes for medium rare or until the internal temperature is 60-65° Celsius. Remove the lamb and place onto a warm serving platter. Cover loosely with foil, and leave to rest for about 8 minutes (approx. half the cooking time) before carving.
Heat olive oil and anchovies in a frying pan or wok over medium to high heat, and then heat through until fragrant and anchovies are broken apart. Add capers until starting to "flower" or open up and crisp. Throw in shredded sprouts, then stir-fry until just cooked through, ensure they're still vibrant in colour. Add peas and stir through until just warmed through. Remain on high heat without stirring for a couple of minutes to allow some of the sprouts to brown and crisp. Remove from heat. Toss through shredded mint and lemon juice to taste, before serving.
Serve all separately on dishes all in the centre of a table for family to share.
Grain Free
Gluten Free
Refined Sugar Free
Dairy Free
Paleo Friendly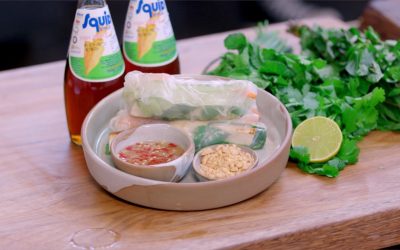 This recipe is brought to you by our friends at Asian InspirationsIngredients:Serves: 8 Prep Time: 10 mins Cook Time: 15 mins Main Ingredients: 1 packet rice paper 150g rice vermicelli noodles 1 bunch coriander 1 bunch Thai basil 1 bunch mint 1 bunch garlic chives 1⁄4...