Roasted Veggie Hummus
Elena Duggan
1 can 400g Chickpeas, rinsed and drained
2 medium carrots, peeled and cut into 2cm chunks
¼ Kent pumpkin, peeled and cut into 2cm chunks
2 medium Sweet potatoes, peeled and cut into 2cm chunks
1 large Lemon
6 cloves garlic
150g EVOO, extra for presentation
1 tsp Cumin, ground
1 tsp Smoked paprika, ground, extra for presentation
1 tsp Sumac, ground, extra for presentation
1 tsp Murray River salt
75g Tahini
25g Sesame seeds for presentation
Preheat oven to 100° Celsius, fan forced.
Toss vegetables, lemon and garlic in EVOO and salt, and roast for 90 minutes until thoroughly softened and caramelised. Remove from oven and sprinkle over spices and toss through, increase temperature to 150° Celsius, fan forces and roast for a further 10 minutes to toast spices.
Remove vegetables and allow cooling for up to 30 minutes.
Place vegetables, lemon, crushed garlic, all pan juices and oils to a high speed blender along with the chickpeas and tahini.
Blitz on high until smooth, scrape down sides between blitzing if necessary.
Serve with an extra of EVOO, spices and sesame seeds.
Serve with vegetable sticks, crisps or flat bread as desired.
Notes
You can use any singular root vegetable rather than all three, whatever you have access to, is on special or in season.
Optional
Serve with roasted chickpeas or chicknuts for additional crunchy garnish
Gluten free
Grain free
Low Fructose/ Minimal Sugar
Keto Friendly
Vegetarian
Vegan
Pescatarian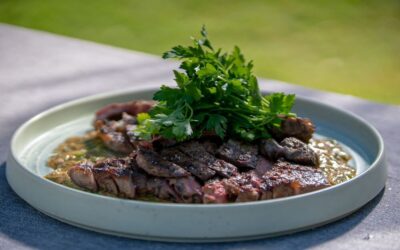 Ingredients: Serves: 2-4 2 x 250g T-bone or Rump steak Sea salt 2 Tbsp Olive oil 2 Tbsp Butter 1 brown onion, diced 2-3 cloves garlic, finely chopped 1 tsp dried chilli flakes 2 tsp dried mixed herbs 40 'twists' cracked black pepper 2 chicken stock cubes, crumbled 2-3...