Rosemary Lamb with Grilled Peaches
Khanh Ong
Rosemary Lamb:
1⁄2 cup buttermilk
2 tsp lemon zest
1 tbsp chopped rosemary leaves
2 tsp lemon thyme leaves
1 garlic clove crushed
6 lamb cutlets a pinch of salt
Olive oil spray
Grilled Peaches:
3 yellow peaches halved and de-stoned
1 tbsp maple syrup
1 tbsp chopped rosemary
A pinch of salt
Grilled Peaches:
Combine all the ingredients except the olive oil and leave for flavours to develop for 15 minutes.
Drain the lamb from the buttermilk mixture.
spray a griddle pan with olive oil and turn heat to high.
Cook the lamb for 2 – 3 minutes on each side until medium or cooked to your liking.
Set aside
Coat the peaches cut side with maple syrup then sprinkle with rosemary and salt.
Grill on a griddle pan for 1-2 minutes until lightly charred
Set aside to serveArrange lamb and peaches on a plate and dollop labne around the plate
Our friends at Wine Selectors recommend pairing this dish with a Shiraz or Pinot Noir.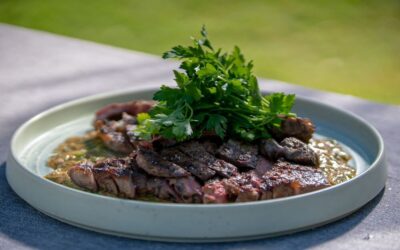 Ingredients: Serves: 2-4 2 x 250g T-bone or Rump steak Sea salt 2 Tbsp Olive oil 2 Tbsp Butter 1 brown onion, diced 2-3 cloves garlic, finely chopped 1 tsp dried chilli flakes 2 tsp dried mixed herbs 40 'twists' cracked black pepper 2 chicken stock cubes, crumbled 2-3...