Rosemary, Pine Nut and Olive Oil Cake
Elena Duggan
Cake:
200g Extra Virgin Olive Oil
200g or 4 Eggs (RSPCA approved)
200g Almond Meal
100g Stevia, powdered or granular
1 sp Vanilla paste
25g Rosemary leaves, rough dice
50g-100g Pine Nuts
Lemon Ricotta:
1 tsp Lemon Zest
25g Lemon Juice
200g Ricotta / Labne / Greek yoghurt
25g Stevia
Preheat your oven to 160°Celsius fan forced. Grease and line a 22cm cake tin.
Stir olive oil, eggs, almond meal, stevia and vanilla with a spoon in a bowl until thoroughly combined.
Pour batter into the lined cake tin. Evenly sprinkle over the diced rosemary leaves all over the surface of the cake, followed by the pine nuts.
Bake cake for 40 minutes or until the pine nuts are golden and the cake bounces back when touched. Allow the cake to cool.
In a medium bowl, mix, zest, juice, ricotta and stevia thoroughly and serve with cake.
Dehydrated Lemon Slices:
Thin slices in a preheated oven at 50°Celsius for 2 hours then flip over, 2 hours then flip over, plus 1 hour more.
Remove from oven and let cool and crisp.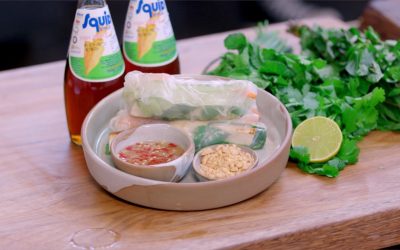 This recipe is brought to you by our friends at Asian InspirationsIngredients:Serves: 8 Prep Time: 10 mins Cook Time: 15 mins Main Ingredients: 1 packet rice paper 150g rice vermicelli noodles 1 bunch coriander 1 bunch Thai basil 1 bunch mint 1 bunch garlic chives 1⁄4...