Rosie Rhubarb and Strawberry Breakfast Pots
Elena Duggan
Rhubarb and Strawberry Compote
1 bunch rhubarb (stalks only) cut into 4cm lengths
500g Strawberries, stems removed, cut in half
25g Rosewater
1tsp Vanilla paste / 1 Vanilla bean, seeds only
25g Maple syrup/ stevia
Softened rhubarb, strawberries, vanilla and maple syrup in a small saucepan until collapsing and fragrant over low to medium heat for about 5 minutes.
Add rosewater and continue cooking for 1-2 minutes
Remove from heat and store in an airtight container.
Layer yoghurt, granola and compote into jars or glasses until full and serve or refrigerate.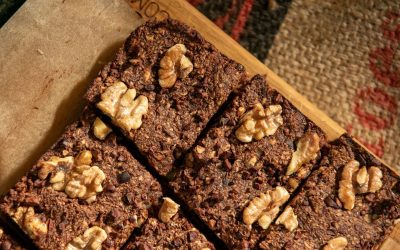 This recipe is brought to you with the help of our friends at JC's Quality Foods Ingredients: 1 ½ cups raw cashews 1 ½ desiccated coconut 3 medium ripe bananas, peeled and chopped 10 fresh dates, pitted 2 tsp vanilla extract ⅓ cup raw cacao powder ½ tsp bicarbonate of...