Rosie Rhubarb and Strawberry Breakfast Pots
Elena Duggan
Rhubarb and Strawberry Compote
1 bunch rhubarb (stalks only) cut into 4cm lengths
500g Strawberries, stems removed, cut in half
25g Rosewater
1tsp Vanilla paste / 1 Vanilla bean, seeds only
25g Maple syrup/ stevia
Softened rhubarb, strawberries, vanilla and maple syrup in a small saucepan until collapsing and fragrant over low to medium heat for about 5 minutes.
Add rosewater and continue cooking for 1-2 minutes
Remove from heat and store in an airtight container.
Layer yoghurt, granola and compote into jars or glasses until full and serve or refrigerate.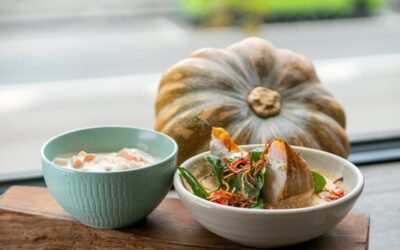 Ingredients: Serves: 2 Ingredients: 2x Wedges of Pumpkin (skin on) 1x can of coconut milk 30ml Soy Sauce (to taste) 1 tbsp of Tom Yum Paste 1 chilli, finely sliced 1 punch of Thai basil 1 tbsp fried shallots Bubur Cha Cha: Kara coconut cream 2litres Pandan leaves 6pcs...