Game-Changing Granola
Elena Duggan
The Base:
1kg Mixed raw nuts and seeds, your favourites
50g Coconut Oil
50g Raw cacao powder
5g Pink salt
Optional Extras:
100g Coconut, shaved
100g Dried blueberries or goji berries
15-25g Cinnamon, ground (to taste)
25g Stevia, powdered
Substitute Ingredients
You could use buckwheat if you're not adverse or sensitive to make up some of the 1kg.
You could add vanilla or other spices.
You could use macadamia and lemon myrtle for an Aussie twist.
You don't have to use any sweetener if you are trying to stay away from it, or minimal of the lesser offensive ones like Rice Malt Syrup, Honey, Maple Syrup – you can even leave out the dried fruit if it's a concern.
If you're not a fan of coconut, don't include it – use olive oil, grapeseed oil or butter even if you prefer.
Substitute Equipment
In a single layer, this granola could be prepared in a dehydrator if you have one.
Instead of a food processor, ingredients can be roughly diced or smashed with a rolling pin.
Preheat oven to 100° Celsius.
Mix all dry ingredients together in a large heavy based oven tray or baking dish.
Stir through the coconut oil, ensuring all ingredients are coated and have a slightly wet sheen.
Bake in the oven at 80-100° Celsius for 4-6hours, occasionally turning over – especially if your oven has any hot spots.
Allow cooling for an hour or more.
Blitz in food processor in batches to desired texture and consistency.
Place in airtight jars. Serve with your favourite milk, yoghurt or non-dairy alternative.
Notes
Your 1kg of nuts could include: Brazil nuts, pecans, cashews, pecans, hazelnuts, almonds, and walnuts
Your 1kg of seeds could include: chia, poppy, flax, sunflower, and pepitas.
The lower the temperature of the oven, the more nutrients the ingredients will retain, so if you've got time go for 80 degrees for six hours.
Could add vanilla if desired
Health and Lifestyle Notes:
Grain Free
Gluten Free
Refined Sugar Free
Sugar Free – Low Fructose
Dairy Free
Nut Free
Paleo Friendly
Ketogenic Friendly
BulletProof Friendly, if all nuts are free of mould
Vegetarian
Vegan
Pescatarian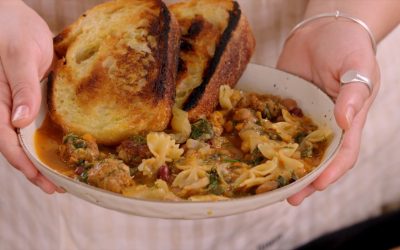 Ingredients: 4 Spicy Italian Sausages Packet of Farfalle Pasta 1 Leek 1 Carrot 1 Onion 2 Garlic 2 cups Shredded Cabbage 1 Chopped Silver Beet 1 400gm Tinned Beans 1 tsp Cumin powder 1 tsp Coriander  powder 1tsp Paprika powder 2 tbsp Tomato Paste Stock of your choice...