Satay Chicken Skewers
Joel Feren
Serves 6
1 cup smooth peanut butter
1 tbsp. peanut oil
1 garlic clove, finely chopped
1 long red chilli, deseeded, chopped, optional
½ tsp. cumin, ground
¾ cup coconut milk
½ cup water
1 tbsp. soy sauce
1½ tbsp. kecap manis
600g chicken tenderloins
6 scoops vanilla Ensure powder
In a mixing bowl add Ensure powder, peanut butter, garlic, chilli, cumin, coconut milk, water, soy sauce and kecap manis. Combine ingredients well.
Set aside half the mixture.
Place the remaining satay sauce in a large bowl and add chicken and toss to combine. Place in the fridge for 2 hours to marinate.
Preheat BBQ (or griddle pan). Thread marinated tenderloins onto pre-soaked skewers.
Brush BBQ or pan with peanut oil. Cook for 6-8 minutes, turning occasionally, for 6-8 minutes or until golden brown and cooked through.
Use remaining satay mixture as a dipping sauce.
Serve alongside Asian greens and basmati rice.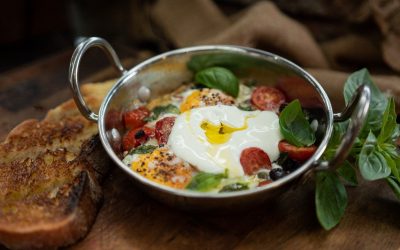 Ingredients: 9 cherry tomatoes, halved 1 small garlic clove, thinly sliced 2 tsp good-quality olive oil 1 tsp balsamic vinegar 5 basil leaves, torn, plus a few extra to serve if you like 5 pitted olives, sliced 2 large free-range egg 1 tsp small capers, rinsed salt...