Shakshuka with Kale
Jemma O'Hanlon
Serves 2
1 tbsp Australian extra virgin olive oil
1 Australian red onion
Small bunch Australian spring onions
Small bunch Australian Kale
1 Australian red capsicum
1 clove Australian garlic
½ tsp cumin
1 tsp paprika
Pinch cayenne pepper (optional)
1 tin Australian canned diced tomatoes
Pinch sea salt
Cracked black pepper
2 eggs
To serve
1 tbsp fresh Australian parsley
1 tbsp fresh Australian coriander
Sourdough bread to serve
Dice onion, capsicum and garlic finely. Slice the white part of the spring onions finely.
In a non-stick pan place the olive oil and place on the stovetop on a medium to high heat.
Add onion, spring onions, capsicum and garlic and heat for a couple of minutes, reducing the heat to low, and stir as the onion goes translucent and lightly browns.
Add cumin, paprika and cayenne pepper and stir over low heat for a minute while the aromas release.
Add the canned tomatoes and stir whilst simmering until the liquid reduces. Stir through the kale, season with salt and pepper and simmer for another 2 minutes.
Pour into two small oven proof ramekins and make a little hollow in each for the egg to sit in.
Crack the egg on top and bake in the oven on 200°C for about 12 minutes or until the egg starts to set on top but is soft in the middle.
Roughly chop the fresh herbs, sprinkle over the top and serve with some crusty sourdough bread.
Tip: Keep an eye on the oven as your egg will cook quickly. If you like a hard egg, leave it in the oven a few minutes longer. This dish is the perfect weekend breakfast but also makes for an easy lunch or dinner!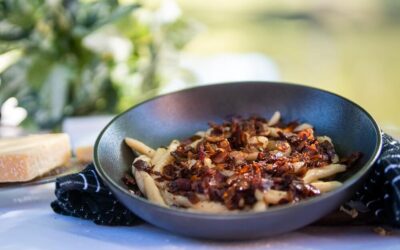 Ingredients: 250g fresh pasta 3 large free range eggs 40g parmigiano cheese 150g smoked pancetta / guanciale Sea salt flakes Black pepper Method: In a mixing bowl, whisk the eggs, parmigiano cheese, salt and pepper. In the meantime, place the diced pancetta into a fry...