Spaghetti Bolognaise
Elena Duggan
50g Olive Oil
250g Pork Mince
250g Beef Mince
100g Carrot, finely diced
100g Celery, finely diced
100g Onion, finely diced
100g Zucchini, finely diced
100g Mushrooms, finely diced
6 cloves garlic, crushed
Handful of fresh thyme and fresh oregano, leaves only
150g Beef Stock
150g Red Wine
700g Passata
50g Tomato paste
50g Red Wine Vinegar
25-50g Stevia
Salt and pepper to taste
1 packet Spaghetti
To Serve
Parmesan, finely grated
Parsley, finely grated
Heat oil in a large heavy based fry pan over medium to high heat.
Cook combined mince meat until its about half browned.
Stir through vegetables, garlic and herbs and cook until softened
Pour in red wine and using a wooden spoon, dislodge all the flavour sediment at the bottom of the pan.
Add all other liquid and stir through gently and thoroughly.
Cook uncovered on a medium simmer for at least 30 minutes, gently stirring to ensure no burning or drying out.
A low temperature for a longer period of time reaps the best flavour rewards, so give it as much time to richen and thicken as you can.
Cook pasta as per packet instructions, drain and keep warm.
Season sauce to taste with stevia, salt and pepper.
Serve bolognese sauce generously over a pile of spaghetti.
Serve with your favourite tasty or Parmesan cheese, finely chopped parsley – quantity as desired.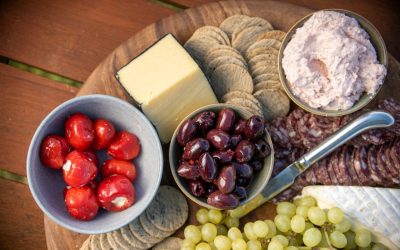 Ingredients: Hard Cheese Soft Cheese Blue Cheese 1 baguette  A bunch of Green Grapes Honeycomb Salami (sliced) Smoked Salmon Dip Artisan Crackers Beetroot dip Poppy Seed Skordalia Dip Dukkah Stuffed Bell Peppers Marinated Olives (pitted) Method: There are no rules or...