Spring Greens Salad
Elena Duggan
250g Asparagus, sliced on an angle into 10cm pieces
250g Green beans, sliced on an angle into 10cm pieces
150g Broad beans, frozen (if fresh, double shelled)
150g Green peas
150g Snow pieces, finely sliced on an angle
50g Spring onions, finely sliced on an angle
50g Baby spinach and or rocket
Dressing
100g EVOO
20g Sesame oil
2 lemons/ 50g Lemon juice plus zest
25g Stevia, optional
1 long red chili, finely diced
25g White and black sesame seeds, toasted and cooled
White pepper, to taste
Salt, to taste
Optional
Leave out any vegetable you're not a fan of and replace with one you like or increase quantity of your favourites.
Prepare a large bowl of iced water and bring a large pot of water to the boil.
In batches of each ingredient, blanch and refresh in iced water then drain well, asparagus, beans, peas, and snow peas. Timing will range from 30seconds to 3 minutes, watch for colour change to vibrant green, don't cook for any longer as vegetables may become soggy and mushy – they should retain some crunch.
While the vegetables are draining thoroughly, prepare the dressing. In a jug, thoroughly combine all ingredients and adjust seasonings to taste.
In a large bowl or on a presentation plate, layer each of the greens so that the final layer a bit of everything is visible. Drizzle dressing over salad and loosely toss to allow salad to be coated and gain glossiness.
Notes
You can add meat or vegetarian proteins if you wish increase nutrient density and satiation of good fats and protein.
Feel free to make this dish your own, depending on the season, with your favourite greens.
Add a whole avocado to the dressing for a greener, good fat rich option.
Gluten free
Grain free
Low Fructose / Minimal sugar
Keto Friendly
Dairy free
Vegetarian
Vegan
Pescatarian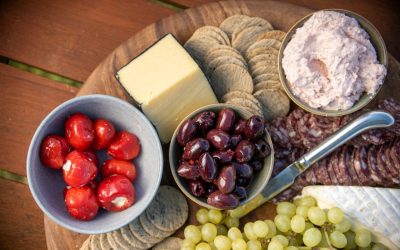 Ingredients: Hard Cheese Soft Cheese Blue Cheese 1 baguette  A bunch of Green Grapes Honeycomb Salami (sliced) Smoked Salmon Dip Artisan Crackers Beetroot dip Poppy Seed Skordalia Dip Dukkah Stuffed Bell Peppers Marinated Olives (pitted) Method: There are no rules or...