Sticky Eggplant with Sake, Miso and Sesame
Tobie Puttock
Serves 4
2 medium eggplant
2 tablespoons of olive oil
½ cup miso paste
4 tablespoons mirin
2 tablespoons sugar
2 tablespoons sake
White sesame seeds for garnish
Preheat the oven to 220C.
Slice the eggplants in half and carefully score the eggplant flesh about 1cm apart. Rub the olive oil over the entire surface of the eggplants and place flesh side down onto a baking tray and cook in the pre-heated oven for 20 minutes.
While the eggplant is cooking, bring together the miso paste, mirin, sugar, sake in a small saucepan and gently heat while stirring for a couple of minutes to combine all the ingredients.
Once the eggplant is cooked remove the tray form the oven, turn the eggplant over so the flesh side is now facing up and brush the flesh generously with the miso mixture.
Place the tray back into the oven until the sauce starts to caramelize slightly.
Remove from the oven, sprinkle the sesame seeds over the top and serve.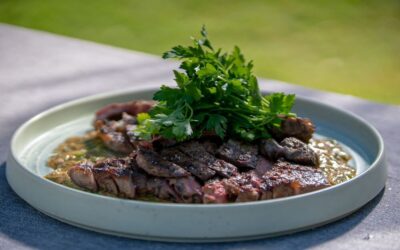 Ingredients: Serves: 2-4 2 x 250g T-bone or Rump steak Sea salt 2 Tbsp Olive oil 2 Tbsp Butter 1 brown onion, diced 2-3 cloves garlic, finely chopped 1 tsp dried chilli flakes 2 tsp dried mixed herbs 40 'twists' cracked black pepper 2 chicken stock cubes, crumbled 2-3...