Sticky Tofu With Noodles
Joel Feren
Serves 4
2tbsp. soy sauce
1tsp. sweet chilli sauce
2tbsp. honey
1tbsp. rice wine vinegar
1tbsp. water
4 scoops vanilla Ensure powder
1tbsp. peanut oil
1tbsp. ginger, finely chopped
1 medium carrot, peeled and diced
1 capsicum, diced
2 garlic cloves, finely chopped
230g tinned bamboo shoots, rinsed and drained, sliced
1 bunch broccolini, cut into thirds
1 zucchini, halved and sliced
500g firm tofu, cut into 1cm cubes
200g rice noodles
Combine soy sauce, sweet chilli sauce, honey, rice wine vinegar, water and Ensure powder and set aside.
Heat oil in a wok over a medium-high heat. Add ginger and garlic and toss well for 1 minute. Add vegetables and sauce and cook for 5 minutes.
Add tofu and coat well with sauce. Turn heat to a gentle simmer until sauce reduces and becomes sticky.
Prepare rice noodles as per instructions on the packet and add to wok and combine well.
Serve with sesame seeds and chopped spring onions.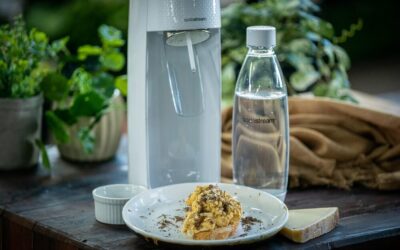 Ingredients: Serves 4 12 eggs, best quality you can afford 150ml sparkling water 2 tablespoons freshly grated parmesan Sea salt and freshly cracked pepper 20g butter 4 thick slices of sourdough, toasted/charred Method: Mix together the eggs, sparkling water, parmesan...