Stir Fried Chicken Fillets with Mushrooms
Chef Leslie Chan
180g Chicken thigh (sliced)
70g Abalone mushrooms (sliced)
40g Marmoreal mushrooms (sliced)
6-8 pcs Porcini mushrooms (soaked, drained and sliced)
30g Chinese celery (sliced)
1⁄4 pc Red capsicum (sliced)
1⁄4 pc Yellow capsicum (sliced)
1 tsp Oil
Marinade
1⁄2 tbsp Lee Kum Kee Gluten Free Soy Sauce
2 tsp Sugar
2 tsp Oil
2 tsp Shaoxing wine
1 tsp Gluten free corn starch
Seasoning Mix
2 tsp Lee Kum Kee Gluten Free Soy Sauce
1⁄2 tsp Sugar
2 tsp Oil
1⁄4 tsp Lee Kum Kee Pure Sesame Oil
1⁄2 tsp Gluten free corn starch
2 tbsp Water
Marinate chicken for 30 mins. Stir-fry chicken with oil until cooked. Add mushrooms. Chinese celery and capsicums. Cook until heated through.
Add in seasoning mix ingredients and continue to stir-fry until completely cooked. Dish out and
serve.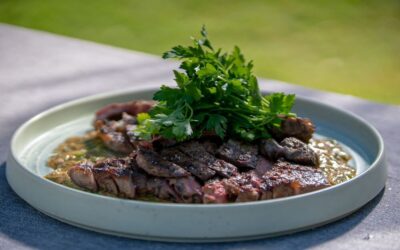 Ingredients: Serves: 2-4 2 x 250g T-bone or Rump steak Sea salt 2 Tbsp Olive oil 2 Tbsp Butter 1 brown onion, diced 2-3 cloves garlic, finely chopped 1 tsp dried chilli flakes 2 tsp dried mixed herbs 40 'twists' cracked black pepper 2 chicken stock cubes, crumbled 2-3...