Stir Fried Chicken Fillets with Mushrooms
Chef Leslie Chan
180g Chicken thigh (sliced)
70g Abalone mushrooms (sliced)
40g Marmoreal mushrooms (sliced)
6-8 pcs Porcini mushrooms (soaked, drained and sliced)
30g Chinese celery (sliced)
1⁄4 pc Red capsicum (sliced)
1⁄4 pc Yellow capsicum (sliced)
1 tsp Oil
Marinade
1⁄2 tbsp Lee Kum Kee Gluten Free Soy Sauce
2 tsp Sugar
2 tsp Oil
2 tsp Shaoxing wine
1 tsp Gluten free corn starch
Seasoning Mix
2 tsp Lee Kum Kee Gluten Free Soy Sauce
1⁄2 tsp Sugar
2 tsp Oil
1⁄4 tsp Lee Kum Kee Pure Sesame Oil
1⁄2 tsp Gluten free corn starch
2 tbsp Water
Marinate chicken for 30 mins. Stir-fry chicken with oil until cooked. Add mushrooms. Chinese celery and capsicums. Cook until heated through.
Add in seasoning mix ingredients and continue to stir-fry until completely cooked. Dish out and
serve.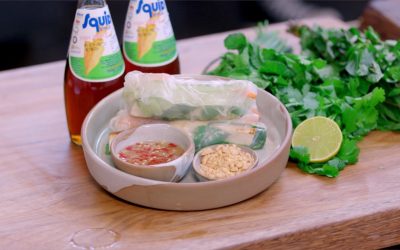 This recipe is brought to you by our friends at Asian InspirationsIngredients:Serves: 8 Prep Time: 10 mins Cook Time: 15 mins Main Ingredients: 1 packet rice paper 150g rice vermicelli noodles 1 bunch coriander 1 bunch Thai basil 1 bunch mint 1 bunch garlic chives 1⁄4...