Stir Fried Rice Vermicelli with Beef
Chef Leslie Chan
120g Dried rice vermicelli
2 tbsp Oil
150g Beef (sliced)
50g Capsicums (shredded)
25g Carrots (shredded)
1⁄2 pc Red onion
2 stalks Spring onion
Seasoning Mix
Cook the rice vermicelli in boiling water according to packet instructions or until soft then drain.
Heat up oil in a pan and stir-fry beef until cooked. Add red onion, spring onion, capsicums and carrots. Toss for 1 min.
Add cooked rice vermicelli and seasoning mix ingredients. Stir well and heat through. Serve.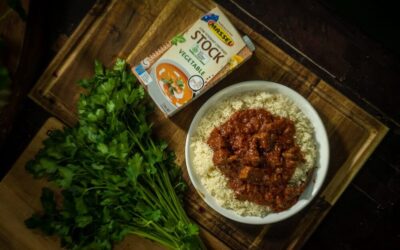 Ingredients: 1 1⁄2 kg round steak, cleaned and cut into cubes 3 cans of roma tomatoes, crushed by hand 1 onion, finely diced 2-3 cloves of garlic 1⁄2 cup of olive oil, plus an additional 2 tbsp 1tbsp red wine vinegar 1L water or chicken stock (optional) 1tbsp tomato...