Super Simple Veggie Slice
Elena Duggan
1kg Sweet potato**, peeled and thinly sliced
500g Tasty cheese
12 large eggs
Optional
You can use any vegies you like, try this slice with the below alternatives:
1kg Zucchini, grated
500g Mushrooms, sliced
Bunch Silverbeet, leaves only, shredded
Preheat fan forced oven to 150° Celsius
Line and grease an oven dish.
Beat eggs in a large bowl until just combined, stir through cheese and vegetable of choice. Season with salt and pepper
Pour into dish. Adjust to ensure even distribution of vegetables and cheese if necessary.
Bake for 30-40 minutes or until eggs are firm.
Allow slice to cool before slicing into portions for the week ahead.
Store in an airtight container in the fridge.
Gluten free
Nut free
Vegetarian
Low fructose/ low sugar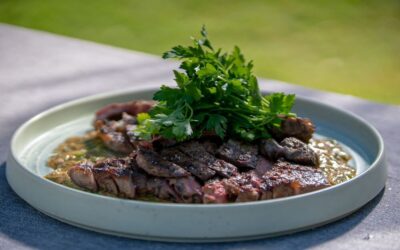 Ingredients: Serves: 2-4 2 x 250g T-bone or Rump steak Sea salt 2 Tbsp Olive oil 2 Tbsp Butter 1 brown onion, diced 2-3 cloves garlic, finely chopped 1 tsp dried chilli flakes 2 tsp dried mixed herbs 40 'twists' cracked black pepper 2 chicken stock cubes, crumbled 2-3...