Sweet and Sticky Seafood Salad
Khanh Ong
12 large green prawns, local and sustainable, peeled and deveined (reserve shells for a soup base)
1 squid tube, cleaned and cut into strips
12 scallops
1 avocado, sliced
3 lge Roma tomatoes, sliced
1 punnet mixed colour cherry tomatoes
1 Bunch basil, leaves only, some reserved
1 bunch coriander, leaves only, some reserved
EVOO
Murray River salt, to taste
Sweet and Sticky Sauce
100g our homemade Sweet Chili Sauce
25g Squid Fish sauce
2 long red chillies, sliced on an angle
3 Spring onions, sliced on an angle
3 cloves garlic, crushed
EVOO
lime, juice and zest
2 tbsp honey
Pre heat a griddle pan over high heat.
In a medium saucepan over medium heat, drizzle approx. 1 tbsp olive oil. Add chili, spring onions, zest and garlic; stir-fry until fragrant and softened. Add chili sauce and heat until starting to thicken, add honey, remove from heat..
Cut and tear tomatoes to different sizes and shapes and place on the base of a platter followed by herbs and avocado.
Heat griddle pan to a high heat.
Drizzle olive oil over prepared seafood and toss through.
Place seafood allowing gaps to avoid stewing on the griddle pan, thickest pieces first, most likely the prawns, followed by squid and then scallops. Cook for approximately 1-3minutes flipping once, or until just opaque.
While warm, toss seafood through the chili and fish sauce before placing on top of your arranged salad. Leave some gaps so that every colour in the salad is visible.
Garnish with reserved herb leaves as desired.
Notes
Seafood can be barbecued outdoors if facilities allow.
Firm white fish could be substituted for seafood listed, or all could be prawns if preferred.
Use your homemade sweet chili sauce for a lower fructose alternative.
Gluten free
Grain free
Nut free
Pescatarian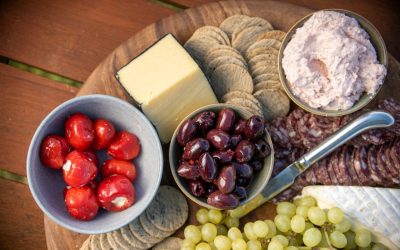 Ingredients: Hard Cheese Soft Cheese Blue Cheese 1 baguette  A bunch of Green Grapes Honeycomb Salami (sliced) Smoked Salmon Dip Artisan Crackers Beetroot dip Poppy Seed Skordalia Dip Dukkah Stuffed Bell Peppers Marinated Olives (pitted) Method: There are no rules or...