Sweet Potato Subs
Elena Duggan
4 x 250g Sweet potatoes, well cleaned
2 x 50g EVOO
500g Cauliflower, riced
100g Onion, finely diced
100g Celery, finely diced
100g Carrot, finely diced
100g Mushrooms, finely diced
1 x 400g can Lentils, rinsed and drained
50g Tomato paste
50g Tamari
25g Stevia
10g Smoked Paprika
10g Garlic powder
10g Onion powder
5g Thyme, dried
10g Vegan stock powder in 250g boiling water
White pepper, to taste
Salt, to taste
Parsley leaves, finely chopped – to serve
Preheat a fan forced oven to 180° Celsius.
Using 50g of EVOO, oil and season sweet potatoes, place on an oven tray and roast for up to 45minutes or until crispy on the outside, starting to collapse and cooked through – use a fork to test there's no yield. Thicker items will take longer than skinny.
While sweet potatoes are roasting, prepare the mince. Heat the remaining EVOO in a large non-stick fry pan.
Stir-fry the cauliflower, onion, celery, and carrot until thoroughly softened, and starting to caramelise or for approximately 5minutes.
Add mushrooms, lentils and stir-fry for additional 2-3minutes.
Add paste, tamari, stevia, paprika, garlic, onion, thyme and stir-fry for additional 2-3minutes.
Add stock and reduce heat to a simmer. Simmer until liquid is reduced to sticky gravy.
Adjust seasoning to taste.
Once sweet potatoes are cooked through, remove from oven and carefully slice into the length of each potato.
Serve each on plate, and pinch to open the split. Generously spoon over mince and serve with parsley.
Grain free
Gluten free
Sugar free/ low fructose
Vegetarian
Vegan
Pescatarian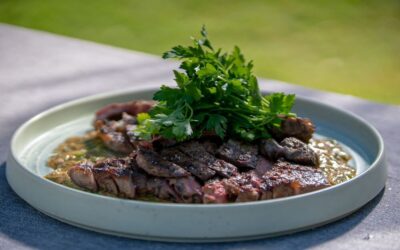 Ingredients: Serves: 2-4 2 x 250g T-bone or Rump steak Sea salt 2 Tbsp Olive oil 2 Tbsp Butter 1 brown onion, diced 2-3 cloves garlic, finely chopped 1 tsp dried chilli flakes 2 tsp dried mixed herbs 40 'twists' cracked black pepper 2 chicken stock cubes, crumbled 2-3...