Serves 2
100g Steamed sushi Rice
75ml Obento Sushi Seasoning
2pcs Obento Nori Sheet, cut in half
20g x 2 Sashimi Salmon, cut into strips
20g x 2 Sashimi Tuna, cut into strips
2 Cucumber, sticks
2 Firm Avocado, section into 1/8 sticks
Lettuce leaves
Obento Sushi and Sashimi Soy Sauce, to serve
Kewpie Japanese Mayonnaise, to taste
S&B Wasabi Paste, to taste
1. Add 75ml Obento Sushi Seasoning to steamed sushi rice and mix well.
2. Combine mayonnaise with wasabi, adding wasabi to preferred taste.
3. On nori sheets, spread rice followed by wasabi and mayonnaise mix.
4. Top with fish & vegetables.
5. Roll into a cone shape and serve with Obento Sushi and Sashimi Soy Sauce.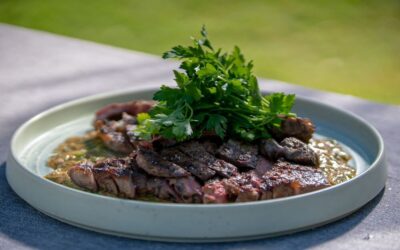 Ingredients: Serves: 2-4 2 x 250g T-bone or Rump steak Sea salt 2 Tbsp Olive oil 2 Tbsp Butter 1 brown onion, diced 2-3 cloves garlic, finely chopped 1 tsp dried chilli flakes 2 tsp dried mixed herbs 40 'twists' cracked black pepper 2 chicken stock cubes, crumbled 2-3...