Serves 2
100g Steamed sushi Rice
75ml Obento Sushi Seasoning
2pcs Obento Nori Sheet, cut in half
20g x 2 Sashimi Salmon, cut into strips
20g x 2 Sashimi Tuna, cut into strips
2 Cucumber, sticks
2 Firm Avocado, section into 1/8 sticks
Lettuce leaves
Obento Sushi and Sashimi Soy Sauce, to serve
Kewpie Japanese Mayonnaise, to taste
S&B Wasabi Paste, to taste
1. Add 75ml Obento Sushi Seasoning to steamed sushi rice and mix well.
2. Combine mayonnaise with wasabi, adding wasabi to preferred taste.
3. On nori sheets, spread rice followed by wasabi and mayonnaise mix.
4. Top with fish & vegetables.
5. Roll into a cone shape and serve with Obento Sushi and Sashimi Soy Sauce.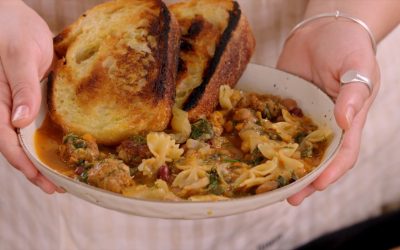 Ingredients: 4 Spicy Italian Sausages Packet of Farfalle Pasta 1 Leek 1 Carrot 1 Onion 2 Garlic 2 cups Shredded Cabbage 1 Chopped Silver Beet 1 400gm Tinned Beans 1 tsp Cumin powder 1 tsp Coriander  powder 1tsp Paprika powder 2 tbsp Tomato Paste Stock of your choice...