Thai Green Curry
Elena Duggan
Curry:
400ml TCC Premium coconut cream
400ml TCC Premium coconut milk
50ml grapeseed oil
80ml Squid Brand fish sauce
12 large green prawns, peeled and deveined
2 long green chilies
10 Italian eggplant (or Apple Eggplant and Thai Pea Eggplant, if you can find them!), cut in different shapes
12 Sweet Thai Basil Leaves
Garnish:
6 Kaffir limes leaves, shredded
50g Grape seed oil
2 Long green chilies, finely sliced on a diagonal
Fresh coriander leaves
Mint Sweet Thai basil leaves
Substitute Ingredients:
You can totally swap out the prawns for up to 500g Free range, organic chicken breast- or your favourite tofu and additional vegetables if you'd prefer zero animal products.
For the vegans, replace prawns as above and, you can leave out the shrimp paste and fish sauce, and besides the obvious flavour difference, the paste and final curry will need replacement seasoning, you could happily use your favourite mineral rich salt.
I've used stevia so this is a low-fructose meal, however you could use palm or coconut sugar if you wished.
Curry
Over a medium heat in a large pot, heat the curry paste until fragrant, constantly stirring.
Deglaze with coconut cream and coconut milk dislodge any flavour sediment from the bottom. Stir thoroughly, and reduce heat to a gentle simmer.
In another large heavy based fry pan, heat the oil over medium to high.
Toss through eggplant, until slightly browned and fragrant.
Toss through prawns until just opaque on the outside.
Stir through, adjust seasoning if necessary.
Pour green curry sauce all over eggplant and prawns and serve.
Garnish
Fry the kaffir lime shreds in the grapeseed oil until crispy and fragrant.
Generously pile all garnish over the top of your green curried eggplant and prawns.
Notes
Turmeric is super good for you for a long list of reasons, but it does 'muddy' the colour of this otherwise super vibrant and popping green curry paste – if you don't like the colour, you may consider leaving it out.
Buy fresh green prawns which are as local to you as possible, the species may vary, they'll be fresher and left less of an impact on the environment because they didn't have to travel.
If you've got excess of any of the paste ingredients, go to town, make double or triple the amount if you wish – it freezes really well in jars for later.
Leftover paste can also be used for a chunky dip by blitzing 150g almonds, cashews or macadamias through it or used as a warm or cold salad dressing by loosening and blitzing through additional liquid coconut oil and lime juice until desired consistency is achieved.
I've chosen not to serve this dish with rice, maintaining it's grain free, paleo and keto status, however you could serve it with your favourite rice or even cauliflower rice if you did so choose.
Ketogenic Friendly
Grain Free
Gluten Free
Refined Sugar Free
Sugar Free – Low Fructose
Dairy Free
Nut Free
Paleo Friendly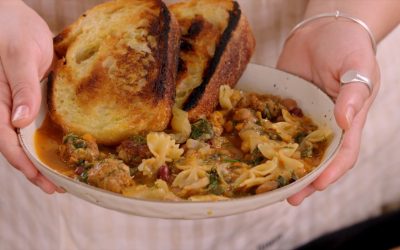 Ingredients: 4 Spicy Italian Sausages Packet of Farfalle Pasta 1 Leek 1 Carrot 1 Onion 2 Garlic 2 cups Shredded Cabbage 1 Chopped Silver Beet 1 400gm Tinned Beans 1 tsp Cumin powder 1 tsp Coriander  powder 1tsp Paprika powder 2 tbsp Tomato Paste Stock of your choice...