Thai Style Pumpkin Soup
Khanh Ong
400g pumpkin cut into medium pieces
1⁄2 an onion chopped
3 shallots peeled and chopped
1 long red chilli chopped
5 kaffir lime leaves cut fine
2 cloves of garlic crushed
6 cm piece of ginger grated
4 cm piece of galangal grated
1 lime zest
3 coriander stalks chopped
3 cups of chicken stock
1 tbsp fish sauce
To Serve:
coconut cream
coriander leaves
sliced red chili
Place all the ingredients into a medium pot and simmer for 20-25 minutes until pumpkin is soft.
Remove 1⁄2 the stock and blend pumpkin with immersion blender
Add reserved stock until desired texture.
Set aside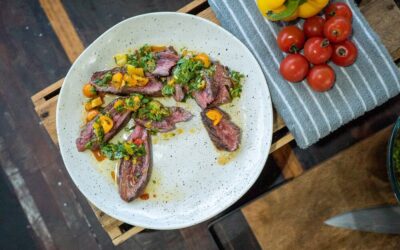 Ingredients: Serves: 4 800g Hanger Steak Sea Salt 1 small yellow pepper, seeds removed, roughly chopped 6 Yellow baby Tomatoes 1 small red chilli, seeds removed ½ tsp dried flaked chillies 2 Garlic cloves, peeled 20g fresh parsley, including any tender stalks 10g each...