Thai Style Pumpkin Soup
Khanh Ong
400g pumpkin cut into medium pieces
1⁄2 an onion chopped
3 shallots peeled and chopped
1 long red chilli chopped
5 kaffir lime leaves cut fine
2 cloves of garlic crushed
6 cm piece of ginger grated
4 cm piece of galangal grated
1 lime zest
3 coriander stalks chopped
3 cups of chicken stock
1 tbsp fish sauce
To Serve:
coconut cream
coriander leaves
sliced red chili
Place all the ingredients into a medium pot and simmer for 20-25 minutes until pumpkin is soft.
Remove 1⁄2 the stock and blend pumpkin with immersion blender
Add reserved stock until desired texture.
Set aside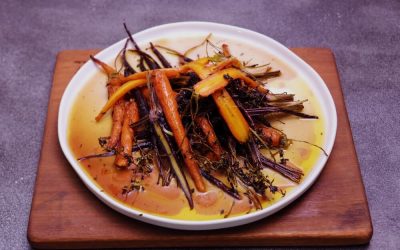 Join Elena Duggan as she creates her Honey Herbed Carrots recipe. Tune in to The Market kitchen each weekday on Channel 10.