Toasty Roasty Red Salad
Elena Duggan
3 lge Red Capsicums
150g Wild Red Rice
50g Vegetable oil with a high smoke point
150g Red quinoa, cooked
100g Red olives (Cerignola) or Kalamata, pitted and sliced
100g / 1 Red or Spanish onion, finely diced
150g Feta, crumbled, optional
Dressing
100g EVOO
50g Red wine vinegar
25g Honey
10g Oregano, dried
10g Thyme, dried
5g Smoked paprika
5g Garlic powder
5g Onion powder
Salt, to taste
Using a wire cooling rack or metal colander, roast the capsicum over an open gas flame or barbecue, turning each minute or so until all skin is evenly charred and blackened. Once complete, place in a bowl and cover in plastic wrap or a lid. The enclosed steam will help loosen the blackened skin and allow you to easily peel or rub it off.
While the capsicums are steaming, prepare the puffed rice. In a medium saucepan, place the vegetable oil and thoroughly toss the rice through it. Place a lid on the rice and gently shake the pot over a high heat until all the rice is evenly puffed (like popcorn).
Once puffed, allow rice to drain and cool on paper towel.
Whilst waiting for the capsicum and rice, prepare the dressing. Mix all ingredients together thoroughly, in a jug and season to taste.
Allowing the dressing to sit for 15-30 minutes will increase the flavour and soften the texture of the dried herbs and spices.
Peel skin away from capsicum flesh. Remove stalk, pith and seeds. Slice flesh into strips. Allow capsicum strips to cool while preparing the rest of the salad ingredients.
In a bowl, toss together quinoa, olives, onions and feta. Toss ½ the dressing through these ingredients and gently place on the bottom of a presentation bowl or plate.
Pile the strips of capsicum on top, followed by the puffed rice, drizzle over the remaining dressing and serve.
Notes
You can add meat or vegetarian proteins if you wish increase nutrient density and satiation.
Gluten free
Grain free
Low Fructose / Minimal sugar
Keto Friendly
Dairy free
Vegetarian
Vegan, optional (vegan cheese or leave feta off)
Pescatarian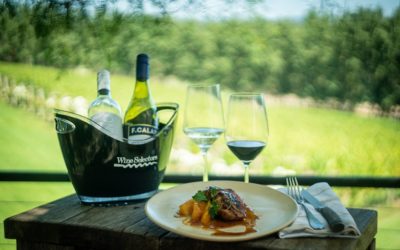 Ingredients: 4 duck breast 1 tablspoon brown sugar ½ tablespoon salt ¼ bunch thyme 1 tsp five spice butter garlic Sauce 1/3 cup sugar 1/3 cup fresh orange juice (from 1 to 2 oranges) segments of one orange 2 tablespoons white-wine vinegar 1/8 teaspoon salt 2 to 4...