Tropical Immunity Smoothie Bowl
Jemma O'Hanlon
Smoothie
1 Australian papaya
2 Australian passion fruit
Flesh of 1 Australian custard apple, seeds removed
½ Australian banana (use the other half for the topping)
2 tbsp coconut yoghurt
Toppings
1 tbsp toasted coconut flakes
½ sliced Australian banana
2 tbsp Australian blueberries
2 tbsp Australian hazelnuts
Slice whole papaya in half, scoop out the seeds and throw these away, then remove some extra flesh to create a deeper hollow. Keep the extra flesh.
Place papaya flesh and other smoothie ingredients in a food processor and blend until smooth.
Crush hazelnuts lightly in a mortar and pestle.
Pour the smoothie mixture into each of the papaya 'bowls', top with sliced banana, fresh blueberries, toasted coconut flakes and crushed hazelnuts.
Tip: When in season, swap the Australian custard apple for the flesh of 1 Australian mango, or 2 small Australian peaches, nectarines, apricots or plums. Swap coconut yoghurt for regular yoghurt for a protein boost.
To find out more head to Hort Innovation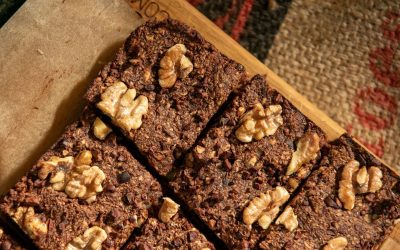 This recipe is brought to you with the help of our friends at JC's Quality Foods Ingredients: 1 ½ cups raw cashews 1 ½ desiccated coconut 3 medium ripe bananas, peeled and chopped 10 fresh dates, pitted 2 tsp vanilla extract ⅓ cup raw cacao powder ½ tsp bicarbonate of...