Tumeric Latte Porridge with Poached Pears
Jemma O'Hanlon
Serves 2
Porridge
½ cup rolled oats
2 cups milk
¼ tsp ground turmeric
¼ tsp ground cinnamon
¼ tsp ground ginger
 ½ vanilla bean (optional)
1 tbsp chia seeds
½ tbsp hemp seeds
2 tbsp Australian pistachios
2 tbsp Australian macadamias
1 tbsp Australian sultanas
2 Australian prunes
1 Australian beurre bosc pear
To serve
Dollop yoghurt
Small handful fresh Australian blueberries
Remaining Australian pistachios and macadamias
 ¼ Australian nashi pear
Slice pear, removing core (keep a couple of slices separate for serving).
Chop nuts roughly. Set some aside for serving. Slice prunes into quarters.
In a medium to large saucepan, place all of the porridge ingredients and sliced pear.
Bring to the boil, then reduce to simmer, stirring regularly until the porridge thickens. Add more milk if you prefer a thinner porridge.
Remove vanilla bean prior to serving. Serve with a dollop of yoghurt, a fan of nashi pear
slices, and the remaining macadamias, pistachios and fresh blueberries scattered over the top.
Tip: For something different, try a pear and chocolate porridge by substituting the turmeric, cinnamon and ginger with 1 tbsp cacao powder. The kids will love it!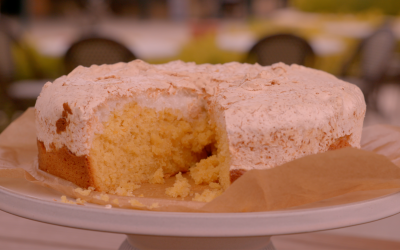 Ingredients:BASE 3 Egg Yolks 1/2 cup Caster Sugar 125g soft butter 2 cups Self-Raising flour 1 cup orange juice Vanilla   TOPPING 3 egg whites 1/2 cup caster sugar 1 cup desiccated coconut Method: Beat butter and sugar until creamy. Add yolks and vanilla. Fold in the...