Tuna Niçoise
Elena Duggan
Dressing:
2 garlic cloves
2 oranges, juice and zest
1 tsp Dijon mustard
3 tbsp red wine vinegar
½ bunch tarragon, leaves only
12 anchovy fillets
125g extra virgin olive oil
White pepper
Pink salt
Salad:
500g Chat or kipfler potatoes, peeled and cut into 2cm pieces or quarters
8 jumbo eggs, free range organic
250g green beans, trimmed
1kg fresh tuna, sushi grade, local
250g perino tomatoes, halved
250g niçoise olives (black/ kalamata are also fine)
100g capers
1 bunch chives, diced
50g extra virgin olive oil
Optional:
Crispy skin salmon can work as a tuna alternative, or even chicken breast if desired.
To make the dressing, blitz all ingredients in blender or stick mixer until smooth. Set aside. Alternatively, you can combine solid ingredients to create a paste in a mortar and pestle before adding wet ingredients and stirring through
Bring a large pot of water to the boil (use the same water for the eggs, beans and potatoes to save water).
Place eggs in when boiling and time for 8 minutes before removing and refresh in iced water.
Bring water back to the boil and blanch beans until just turned vibrant green, then remove and refresh in iced water.
Bring water back to the boil and cook potatoes until just cooked or when a knife goes in easily, then remove and refresh in iced water.
Once cool, peel eggs and quarter them lengthways.
Heat a medium pan. Rub olive oil and 1tbsp of the dressing all over tuna's surface. Cook tuna until opaque, approximately ¼ of the depth of the cut, on all sides before resting for 5 minutes. Cut slices ensuring the rare inside and cooked exterior are visible.
In a large bowl, toss the potatoes, beans, tomatoes, olives, and capers through ½ the dressing gently so as not to rough any ingredients edges up.
Place a bed of the salad on the plate to serve, followed by eggs, chives and tuna pieces.
Drizzle any leftover dressing all over the top.
Notes:
To add further refinement to this dish, olives can be dehydrated in a microwave oven 1 minute at a time and finely diced until resembling a fine dry crumb – these will become a flavoured seasoning and textural and colour boost for the dish.
Eggs can be run through a ricer for an alternative texture than can be sprinkled over salad.
The base of this salad lasts well undressed and without fish component in an airtight container in the fridge.
Gluten free
Grain free
Low Fructose / Minimal sugar
Keto Friendly
Pescatarian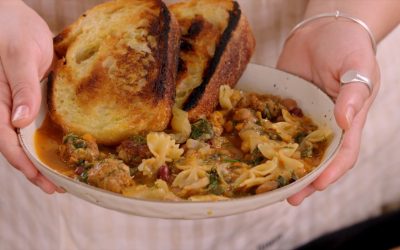 Ingredients: 4 Spicy Italian Sausages Packet of Farfalle Pasta 1 Leek 1 Carrot 1 Onion 2 Garlic 2 cups Shredded Cabbage 1 Chopped Silver Beet 1 400gm Tinned Beans 1 tsp Cumin powder 1 tsp Coriander  powder 1tsp Paprika powder 2 tbsp Tomato Paste Stock of your choice...