Tuna Patties
Simone Austin
Serves 4
4 scoops Ensure vanilla powder
1 ½ cups mashed potato
1x 425g tin tuna
1 finely diced red onion
2 tablespoons chopped fresh parsley
½ lemon, juiced
2 eggs, lightly beaten
1 cup breadcrumbs
3 tablespoons extra virgin olive oil
Place tuna into a mixing bowl with potato, eggs, parsley, lemon juice, red onion, ½ the breadcrumbs and Ensure powder.
Shape well into 12 patties. Coat patties in remaining breadcrumbs.
Heat oil on medium heat and fry patties until lightly browned on both sides. Serve hot with salad or steamed vegetables.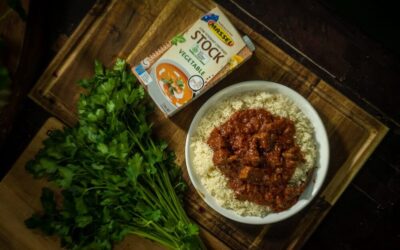 Ingredients: 1 1⁄2 kg round steak, cleaned and cut into cubes 3 cans of roma tomatoes, crushed by hand 1 onion, finely diced 2-3 cloves of garlic 1⁄2 cup of olive oil, plus an additional 2 tbsp 1tbsp red wine vinegar 1L water or chicken stock (optional) 1tbsp tomato...