Turkey and Cranberry Pockets
Elena Duggan
4 Tortillas or Simsons Pantry Wraps
150g Cranberry Jam/ jelly/ sauce
150g Provolone Cheese, thinly sliced or grated
250g Shredded turkey meat or turkey mince cooked in butter below, cooled to room temp
50g Butter, additional for toasting
1 bunch Lemon thyme, leaves only
100g Red onion, finely diced
White pepper, to taste
Salt, to taste
If turkey isn't cooked, stir-fry in a non-stick fry pan in butter until cooked through, remove from pan and set aside.
Melt additional butter in a nonstick fry pan over medium heat.
Fill tortillas in the centre, bottom third of the tortilla, with cheese, followed by cranberry, lemon thyme, onion, then turkey, season to taste. Fold either in half, or into a pocket.
Gently toast pockets in buttered fry-pan until golden on the outside and cheese is melted on the inside, cut in half or serve as is.
Gluten free – optional, utilise gluten free wraps
LCHF – increase good fats by adding avocado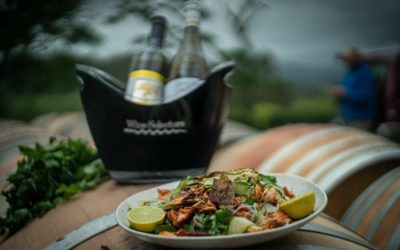 Ingredients: 100g glass noodles (bean thread vermicelli) 2 Lebanese cucumbers, thinly sliced using a vegetable peeler 4 spring onions, thinly sliced on diagonal 2 eschalots, thinly sliced 1 cup coriander sprigs 1 cup flat-leaf parsley sprigs 1-2 small red chillies,...