Twice Baked Cheese Souffle
Rob Rees
290ml Semi Skimmed Milk
1⁄2 Sliced Onion
Pinch of Nutmeg
45g Butter
45g Flour
Pinch of Dry English Mustard
125g Strong Cheddar Cheese, Grated
3 Eggs, Separated Cracked Black Pepper
Lining Ramekins
100g Butter, melted
150g Panko Bread Crumbs
Salad Garnish
A good drizzle of olive oil and a dash of balsamic vinegar for dressing.
1 Small bunch of fresh Watercress leaves
1 Green Apple
1 Celery Stick
Freshly chopped coriander
12 Caper Berries
2 Tablespoons mayonnaise
2 Teaspoons clear honey
1 Tablespoon toasted pine nuts
Preheat the oven to 180 ̊C.
Line the ramekins by first brushing the inner edges and bottoms evenly with melted butter. Then coat evenly with the crumbs and set aside.
Heat the milk slowly with the onion and the nutmeg then remove from the heat and strain out the onion.
Melt the butter and stir in the flour and cook out for 1 minute then gradually add the milk, off the heat, stirring until smooth.
Return the pan to the heat and stir until the sauce boils and thickens.
Continue to add the remaining milk in this way until all is combined and you have a smooth white sauce.
Remove from the heat and stir in the mustard, 3⁄4 of the cheese and then the egg yolks. Season with cracked black pepper.
Whisk the egg whites until stiff.
Fold 1⁄2 the whisked egg whites into the cheese mixture then fold in the remaining whites.
Spoon the mixture into the ramekins. Run your finger around the edge of each ramekin to clean then place in a roasting tin. Fill the tray half way up the side of the ramekin with boiling water and bake in the oven for 15 minutes or until the mixture is set. Allow to sink and cool.
Run a knife round the edges of the soufflés to loosen them then turn them out on to your hand.
Twenty minutes before serving, sprinkle the remaining cheese on top and place into a hot oven, 200 ̊C for 10 minutes or until the soufflé tops are pale gold. Serve fast before they sink!
Serve with a salad of herbs, apple, pine nuts, celery, mayonnaise, leaves and caper berries.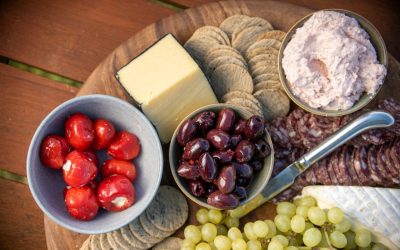 Ingredients: Hard Cheese Soft Cheese Blue Cheese 1 baguette  A bunch of Green Grapes Honeycomb Salami (sliced) Smoked Salmon Dip Artisan Crackers Beetroot dip Poppy Seed Skordalia Dip Dukkah Stuffed Bell Peppers Marinated Olives (pitted) Method: There are no rules or...