Vanilla Slice
Simone Austin
6 scoops Ensure Vanilla Powder
½ cup sugar
½ cup custard powder
½ cup cornflour
2 cups milk
300ml thickened cream
Icing sugar to decorate
2 sheets puff pastry
1 mango, chopped into small cubes for decorating
Cook 2 sheets of puff pastry as per packet directions and leave to cool
Combine sugar, cornflour, custard powder and ensure vanilla Powder in a saucepan.
Use a little milk to blend to a smooth paste
Add the remaining milk and cook on the stovetop stirring continuously until it thickens
Remove from heat and cool a little
Stir in the cream.
Spread custard mixture on one of the pastry sheets. Top with the other sheet and prinkle with icing sugar.
Decorate with the fresh mango.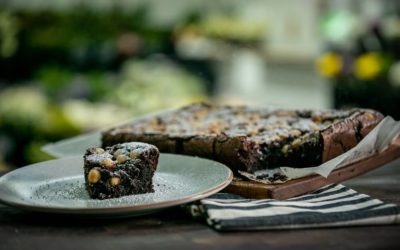 Ingredients: Makes 28 portions 12 eggs 800gm 900gm caster sugar 675gm 68% Madagascar chocolate 675gm-unsalted butter 225gm ground macadamia meal 225gm cocoa powder 300gm macadamia nuts Method: Preheat oven to 150 degrees Grease and line sponge tray with parchment...