Vegan San Choy Bow
Elena Duggan
50g Peanut oil
100g (1med) Onion, finely diced
100g Celery, finely diced
2 cloves Garlic, finely chopped
50g Ginger, finely chopped
1long Red Chili
250g Mushrooms, finely diced
250g Firm tofu, chopped
50g Water chestnuts, chopped
150g Quinoa, cooked (optional)
50g Chinese cooking wine
50g Tamari or gluten free soy sauce
25g Sesame oil
Stevia monkfruit, to taste
White pepper, to taste
6 Spring onions, thinly sliced
1 Iceberg lettuce, separated and washed
To Serve
Lime wedges
Red chili, finely sliced
Bean shoots
Crispy fried shallots
Sesame seeds
Crushed nuts
Coriander leaves finely chopped
Preheat the oil in a large fry pan or wok to medium high.
Stir-fry onion, celery garlic and ginger until softened, translucent and starting to caramelised approximately 4-5minutes.
Add chili, mushroom, tofu and chestnuts, stir-fry for an additional 4-5 minutes or until mushroom are thoroughly softened and all ingredients are caramelizing evenly.
Add quinoa, wine, tamari, sesame oil, stevia, and pepper and stir through until sauce is evenly distributed and quinoa is heated through. Toss through spring onions.
Serve heaped scoops into lettuce leaves and top with a combination of fresh and crunchy garnishes.
Grain free
Gluten free
Minimal fructose, low sugar
Keto friendly
Bulletproof friendly
LCHF friendly
Paleo
Vegan
Vegetarian
Pescatarian
Dairy Free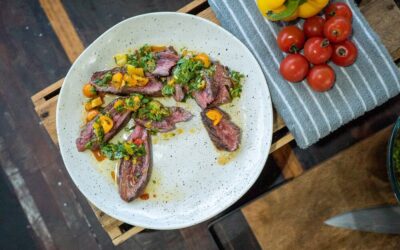 Ingredients: Serves: 4 800g Hanger Steak Sea Salt 1 small yellow pepper, seeds removed, roughly chopped 6 Yellow baby Tomatoes 1 small red chilli, seeds removed ½ tsp dried flaked chillies 2 Garlic cloves, peeled 20g fresh parsley, including any tender stalks 10g each...