Vege Soup with Chickpeas
Kathy Tsaples
500g dried chickpeas, soaked in cold water overnight
1-2 sticks of celery, finely chopped
1 large onion, chopped
150ml extra virgin olive oil, plus extra for serving
Juice of 1 lemon, or more if needed
2 tbsp fresh flat-leaf parsley, chopped
A sprinkling of dried oregano
1 bay leaf
Salt
Ground black pepper
1 carrot, grated
Heat the olive oil in a heavy pan, add the onion and sauté until it starts to colour.
Meanwhile, drain the chickpeas, rinse them under cold water and drain them again.
Shake the colander or sieve to dry the chickpeas as much as possible, then add them to the pan. Turn them with a spatula for a few minutes to coat them well with the oil.
Add the celery and bay leaf, then pour enough hot water to submerge the contents of the pot by about 4 centimetres.
Bring to a boil. Skim off any white froth that rises to the surface using a slotted spoon.
Lower the heat, add some pepper, cover and cook for 1–1L/e hours or until the chickpeas are soft.
When the chickpeas are perfectly soft, add the lemon juice. Mix well, then add salt and pepper to taste. Cover the pan and cook gently for 5–10 minutes more, stirring occasionally.
To thicken the soup slightly, take out about two cupfuls of the chickpeas and put them in a food processor. Make sure the chickpeas are broken up but remain slightly rough. Stir this into the soup in the pan and mix well.
Add the parsley and oregano, then taste the soup. If it seems a little bland, add more lemon juice, salt and pepper.
Serve in heated bowls and offer extra olive oil at the table for drizzling on top of the soup.
For chef quality results, we recommend using Anolon cookware!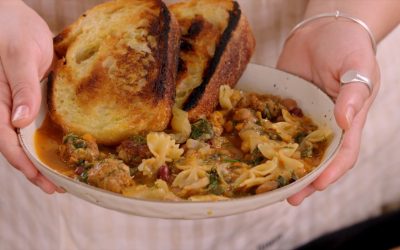 Ingredients: 4 Spicy Italian Sausages Packet of Farfalle Pasta 1 Leek 1 Carrot 1 Onion 2 Garlic 2 cups Shredded Cabbage 1 Chopped Silver Beet 1 400gm Tinned Beans 1 tsp Cumin powder 1 tsp Coriander  powder 1tsp Paprika powder 2 tbsp Tomato Paste Stock of your choice...