Vegetable Yaki Udon
Chef Masa Arakane
4 Shitake Mushroom (sliced)
250g Cabbage (roughly cut)
100g Red Capsicum (sliced)
80g Carrots (cut into strips)
60g Spring Onion
1 pack Hakubaku Udon
Obento Tonkatsu Sauce (as needed)
Vegetable Oil (to cook)
Garnish
Red Pickle Ginger
KEWPIE Mayonnaise
Green Aonori Flakes
Bonito Flake
Prepare vegetables.
Boil noodles until cooked, drain and cool under running water. Drain excess liquid and keep dry.
Heat pan and spread some vegetable oil. Stir fry vegetables except spring onion, until cooked through.
Mix in the noodles, followed by tonkatsu sauce. Using tongs, marinade the sauce through the ingredients until all ingredients are well coated.
Add spring onion and quickly stir fry until the spring onion is mixed in.
Plate in a dish followed by mayonnaise, red pickle ginger, aonori flakes, and bonito flakes.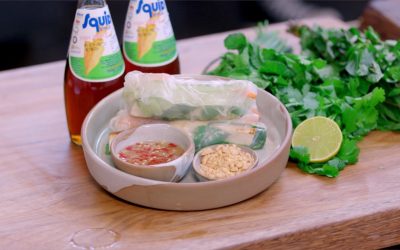 This recipe is brought to you by our friends at Asian InspirationsIngredients:Serves: 8 Prep Time: 10 mins Cook Time: 15 mins Main Ingredients: 1 packet rice paper 150g rice vermicelli noodles 1 bunch coriander 1 bunch Thai basil 1 bunch mint 1 bunch garlic chives 1⁄4...