Vegetarian Chickpea Curry
Elena Duggan
1tsp Coriander seeds
1tsp Yellow mustard seeds
1tsp Brown mustard seeds
1tsp Cumin seeds
1tsp Turmeric powder
1tsp Ginger powder
1tsp Kashmiri chili powder
50g Coconut Oil
50g Garlic, fresh and crushed
50g Ginger, fresh and grated
250g / 2lge Brown onions, diced
250g / 2lge Carrots, diced
250g / 2med Sweet potato, diced
250g / 4 sticks Celery, diced
250g / ¼ Pumpkin, diced
1can Chickpeas, drained and rinsed
1L Massel Vegetarian white stock / water
Optional:
To Serve Optional:
Yoghurt
Coriander leaves
Mint leaves
Diced deseeded cucumber
In a large heavy based fry pan, toast all dry spices over a low to medium heat, whole stirring regularly until fragrant and warmed through.
Add oil, ginger, garlic, and onion, sauté until onions are translucent and everything is combined.
Add all vegetables and toss through to ensure even coverage of spices.
Add enough stock to just cover, add additional water if necessary.
Gently simmer for up to 30 minutes or until vegetables are cooked through but still holding their shape.
Add chickpeas and cook for a further 5 minutes until chickpeas are heated through.
If adding coconut milk, add it now and reduce for up to a further 10 minutes.
Serve curry on its own or with rice if desired.
Notes
Whilst some save the aquafaba from chickpeas to form a vegan meringue, it is also often the cause of gas/ bloating/ flatulence, so I choose to drain and rinse it away.
Optional
Grain free breadcrumbs or from homemade bread is a good substitute for GF bread crumbs.
Gluten free
Grain free, optional
Low Fructose / Minimal sugar
Keto Friendly
Vegetarian
Vegan
Pescatarian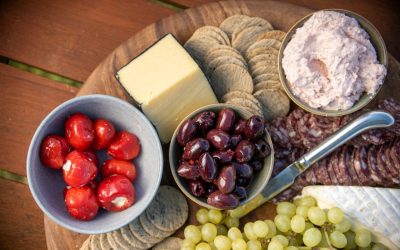 Ingredients: Hard Cheese Soft Cheese Blue Cheese 1 baguette  A bunch of Green Grapes Honeycomb Salami (sliced) Smoked Salmon Dip Artisan Crackers Beetroot dip Poppy Seed Skordalia Dip Dukkah Stuffed Bell Peppers Marinated Olives (pitted) Method: There are no rules or...