Wholesome Carrot Cake
Georgia Barnes
Serves 12
3 cups wholegrain spelt flour 2 tsp baking powder
1 cup rapadura sugar
2 tsp ground cinnamon
1 tsp natural salt flakes
4 free-range eggs
300ml extra virgin olive oil
1/3 cup pure maple syrup
2 tbsp natural vanilla extract
4 medium carrots, grated
100g walnuts, extra for decorating 1/2 cup dates, roughly chopped
Icing
500g cream cheese, at room temperature
50g unsalted butter, room temperature
1 3/4 cup icing sugar mixture, sifted
2 tbsp lemon juice
1 tsp lemon rind
Preheat the oven to 170°C fan-forced. Grease and line two 8- inch cake tins.
In a large bowl, add flour, baking powder, brown sugar, cinnamon and salt flakes. Mix together. Make a well in the centre of the bowl. Add eggs, olive oil, maple syrup and vanilla. Whisk together until just combined. Using a spatula, fold through carrots, walnuts and dates.
Evenly divide batter between prepared tins. Place in a preheated oven for 40-45 minutes, or until golden brown and cooked all the way through. Remove from the oven and allow to cool completely.
To make the icing, beat cream cheese and butter until light and fluffy. Add icing sugar, lemon juice and lemon rind. Mix until smooth.
Remove cooled cakes from tins. Spread 1/3 of the icing over the first cake. Place the second cake on top. Using a palette knife, evenly spread remaining icing over sides and top of cake. Decorate sides using additional walnuts. Serve and enjoy with a hot cuppa!
For chef quality results, we recommend using Anolon cookware!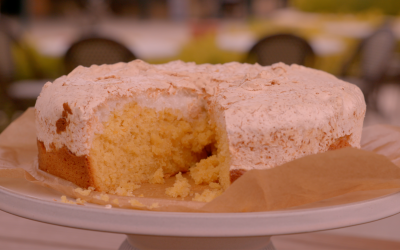 Ingredients:BASE 3 Egg Yolks 1/2 cup Caster Sugar 125g soft butter 2 cups Self-Raising flour 1 cup orange juice Vanilla   TOPPING 3 egg whites 1/2 cup caster sugar 1 cup desiccated coconut Method: Beat butter and sugar until creamy. Add yolks and vanilla. Fold in the...