500g Chicken thigh fillets, cut into 3cm cube
1lge Eggplant, cut into 3cm cubes – or 3 Lebanese eggplants split down the length
Marinade
50g Tamari
50g Sake (Obento)
50g Mirin (Obento)
100g Maple syrup
100g Chicken stock (Massell)
Obento Yakitori Sauce
To Serve
1lge Continental cucumber, ribbons
25g Sesame oil (Yeos)
25g Rice wine vinegar (Obento)
25g Mirin (Obento)
Fresh wasabi (S&B), to taste
25g Toasted sesame seeds
Thoroughly combine marinade ingredients in a large bowl.
Thread all chicken onto skewers, and all eggplant on to separate skewers and plate in spate flat dishes or containers with lids.
Pour approx. half the marinade all over the eggplant and roll around until all sides are in contact with the marinade – marinade for 20-60 minutes.
Repeat the marinade and roll for the chicken. Chicken can marinade in advance for up to 1-24hours, turning 2-3times.
Preheat griddle pan or barbecue to medium high.
Create cucumber salad dressing by thoroughly combining sesame oil, vinegar and mirin and adjust heat level with wasabi to your liking.
Place yakitori skewers on the hot surface and grill until theres heavy caramelisation on all sides, and cooked through – maybe up to 10minutes turning 3 times, or all sides.
While yakitori are cooking, dress your cucumber and place in a bowl on a board, sprinkling with sesame seeds, leaving space for cooked skewers.
Once skewered meat and vegetables are cooked through, place on board and serve.
Gluten free, when using gluten free soy/ tamari
Dairy free
Nut free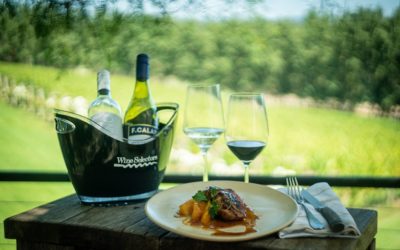 Ingredients: 4 duck breast 1 tablspoon brown sugar ½ tablespoon salt ¼ bunch thyme 1 tsp five spice butter garlic Sauce 1/3 cup sugar 1/3 cup fresh orange juice (from 1 to 2 oranges) segments of one orange 2 tablespoons white-wine vinegar 1/8 teaspoon salt 2 to 4...