Za'atar Roasted Chicken with Fatteh
Charlie Carrington
1 free range butterflied chicken
40 ml (1¼ fl oz) grape seed oil
1 tablespoon za'atar
1 garlic clove, minced
375 g (13 oz) yoghurt
½ teaspoon cumin
1 white onion, diced
½ bunch parsley, leaves picked
½ bunch dill, fronds picked
50 ml (1¾ fl oz) olive oil
2 teaspoons za'atar
1 teaspoon salt
2 teaspoons pomegranate molasses
40 g (1½ oz) toasted walnuts, chopped
250 g (9 oz) cooked chickpeas (tinned is acceptable)
60 g (2 oz) tahini
Pinch of aleppo pepper or paprika for dusting
Preheat the oven to 190°C (375°F). Rub the chicken with 20 ml (¾ fl oz) of oil, put in a roasting tin and roast for 50 minutes.
Remove from the oven and increase the temperature to 200°C (400°F). Mix the next 20 ml (¾ fl oz) of oil with the za'atar and a pinch of salt and pour over the chicken. Return to the oven and roast for 10 minutes.
To make the fatteh, in a large bowl combine the garlic, yoghurt, cumin, onion, parsley, dill, olive oil, za'atar, salt, pomegranate molasses and walnuts to make a flavoured yoghurt. In a saucepan warm the fatteh very gently; it's not meant to be to hot, just warm.
Fold the chickpeas through the tahini and set aside.
Place the chicken on the serving platter whole. In a wide shallow bowl, put the chickpea mix on the left and the fatteh on the right and using a fine strainer dust it with some aleppo pepper or paprika and serve.
Tangy, herby za'atar is queen of the spice blends in Lebanon, and every family has its own version. Here, I've used it as a rub for chicken, teaming it with fatteh to add a cooling, creamy element to the dish. Fatteh is a classic breakfast dish eaten in the Levantine, and a tasty way to use up stale flatbread by toasting and covering it with spiced yoghurt.
For chef quality results, we recommend using Anolon cookware!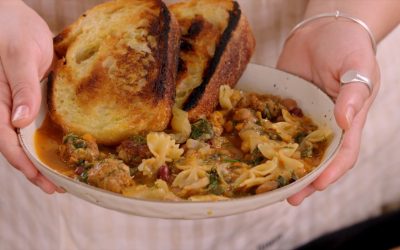 Ingredients: 4 Spicy Italian Sausages Packet of Farfalle Pasta 1 Leek 1 Carrot 1 Onion 2 Garlic 2 cups Shredded Cabbage 1 Chopped Silver Beet 1 400gm Tinned Beans 1 tsp Cumin powder 1 tsp Coriander  powder 1tsp Paprika powder 2 tbsp Tomato Paste Stock of your choice...