Zucchini Slice
Joel Feren
Serves 6
½ cup Ensure vanilla powder
2 medium zucchinis, grated
1 medium carrot, grated
2 spring onions, finely sliced
½ cup grated cheese
2 tbsp. extra virgin olive oil
4 eggs
½ self-raising flour
Salt and pepper to taste
Preheat oven to 180°C and grease and line a 20cm square tin with baking paper.
Combine the zucchini, carrot, spring onion, eggs, oil and cheese in a mixing bowl.
In a separate bowl combine the flour, Ensure powder and seasoning. Add wet ingredients to flour mixture and stir until combined.
Pour the mixture into a square tin and bake in the oven for 25-30 minutes or until golden and cooked through.
Allow to cool in tin before serving.
Serve with salad.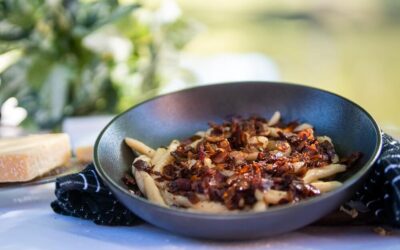 Ingredients: 250g fresh pasta 3 large free range eggs 40g parmigiano cheese 150g smoked pancetta / guanciale Sea salt flakes Black pepper Method: In a mixing bowl, whisk the eggs, parmigiano cheese, salt and pepper. In the meantime, place the diced pancetta into a fry...