Apple Crumble Pie
Elena Duggan
Crust / Pastry
150g Almond meal/ flour
50g Tapioca flour or Buckwheat flour
50g Flax meal
50g Xylitol,
5g/ 1tsp Salt
100g Coconut oil / Grass-fed butter / Ghee
Up to 50g Cold water
Filling
1kg Green apples, peeled, cored and into 5mm slices
50g Lemon juice
50g Coconut oil / Grass-fed butter / Ghee
100g Xylitol, more or less to desired sweetness
5g / 2 tsp Cinnamon, ground
2.5g/ 1tsp Nutmeg, ground
2.5g/ 1tsp Allspice, ground
2.5g/ 1tsp Ginger, ground
2 1tsp Vanilla paste
Crumble
250g Almond meal/ flour
50g Tapioca flour or Buckwheat flour
50g Coconut flour or shredded
50g Coconut flakes
100g Pecans, roughly diced
100g Xylitol, more or less to desired sweetness
5g / 2 tsp cinnamon, ground
5g/ 1tsp Salt
75g Coconut oil / Grass-fed butter / Ghee 
Combine all crust ingredients except water in a food processor, or use a pastry blender in a bowl. Pulse or blend until the texture of wet sand is just achieved. Add the water and pulse or stir until the dough comes together. Alternatively, mix in a bowl, and use your hands to bring the dough together.
Pre-heat fan-forced oven to 180° Celsius.
Roll out the dough in between two sheets of wax paper or on a silicone baking mat into a circle just bigger than your pie dish.
Carefully lay dough into a medium depth dish. Press any broken dough back into place and repair any cracks that may have formed. Cover and place in the freezer while preparing the filling.
Place the sliced apples in a large bowl and thoroughly toss in lemon juice.
Melt the fat of choice in a saucepan over low heat or in a microwave. Whisk in the sweetener, spices, and seasoning. Simmer for 3 minutes – or microwave for up to 2minutes further, before removing from heat and tossing through the apples. Pour apple mix into the prepared crust, trying to maintain even layers and no gaps.
For the crumble topping, combine the meals/ flours, coconut pecans, sweetener, and oil in a mixing bowl.
Using your fingertips, combine dry ingredients until evenly moistened and then crumble over the apples, leaving no gaps.
Bake for 45-60minutes, rotating if your oven has a hot spot or reduce to 160° Celsius if browning too quickly.
Remove from heat and allow to cool for 20-30minutes so apple filling doesn't burn diners' mouth.
Serve warm or chilled. Can be refrigerated for up to a week in an airtight container, or frozen for up to one month.
Gluten free
Grain free, optional substitution included above
Paleo
Vegetarian
Vegan, optional substitution included above
Dairy free, optional substitution included above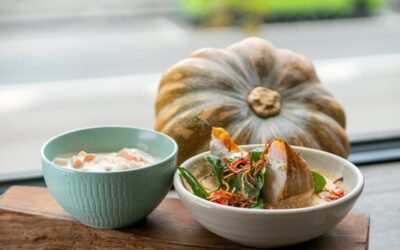 Ingredients: Serves: 2 Ingredients: 2x Wedges of Pumpkin (skin on) 1x can of coconut milk 30ml Soy Sauce (to taste) 1 tbsp of Tom Yum Paste 1 chilli, finely sliced 1 punch of Thai basil 1 tbsp fried shallots Bubur Cha Cha: Kara coconut cream 2litres Pandan leaves 6pcs...